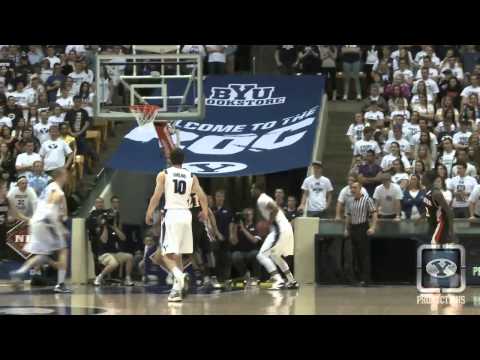 View 21 Items

PROVO — The magic 3 ball.
It doesn't always fall, but when it does, Dave Rose has a pretty good BYU basketball team.
BYU's three big guns had a heyday dropping a season-high 10 3-point buckets on Mercer Monday night. The 3-point bombs led to a convincing 90-71 second-round win in the National Invitational Tournament before a crowd just short of 13,000 in the Marriott Center.
Brandon Davies scored 26 points and hauled down 10 rebounds. Tyler Haws added 24 with perfect 7-of-7 shooting from the line. But it was the Lone Ranger, Matt Carlino, whose bullets killed the Bears — just like they killed Washington in the first round of the NIT.
Carlino's wandered around this season as a mystery man for Rose. Some nights he's on fire. Some nights he's been missing in action. He's played in streaks, putting on heroic performances and then disappearing.
But on this night, Carlino made 5 of 10 shots from distance, several of them from 30 feet.
That kind of firepower surprised Mercer coach Bob Hoffman, who told reporters after his team's loss that he knew the Cougars were good shooters — but not this good.
The Cougars made 10 of 24 from beyond the line for 41 percent. Carlino is now averaging 19 points, nine assists and 6 1/2 rebounds in the NIT.
"It was a shootout and we didn't make enough shots," said Hoffman. "They were unbelievable at making shots, rising up and making 40 footers. We'd watched a lot of tape. He'd done that some, but not very often had he done what he did tonight. He took the challenge and was really good."
The Carlino issue posed a huge problem for Hoffman's Bears.
Davies had to be stopped and guarded. Hoffman had to throw two defenders at him most the game when the ball came in the post. He also had to keep a man hounding Haws. Working that game plan, Hoffman had to give up something. It was Carlino. And he made them pay.
Davies and Haws combined for 50 points. They were solid.
But Carlino found his rhythm early and late. He dished out nine assists and six rebounds, and his five treys were all daggers.
That was huge for Rose.
As I opined over the weekend, the Cougars will go no further in the postseason than what they get from Carlino. He is a big key.
Hoffman said Davies knows what he wants to do with the ball and is a handful. "We were wanting to dig on him in the post when he put it on the floor, but it's hard to do that when they are making 35-footers."
The Mercer coach said BYU's bomb making is one takeaway from the trip to Provo that stood out and was outside of what he expected.
"I knew they would hit some, but not at the rate and as far out as Carlino was making them. He hit them deep. I'd like to measure a few of them. One time Travis Smith went under a ball screen and Carlino pulled back and hit it close to 30 feet. He was flinging it at a high level. Haws was great, but I thought the other was the difference-maker tonight."
Hoffman said he looked at all kinds of film on the Cougars and it appeared to him that Carlino was freed up. Mentally and physically, it appeared to him that Carlino was out of the shackles of conference play where everyone knows every wart and pimple of every player and has every move down.
"It's hard to get free to get a shot no matter how good an offense or defense you have, but when you get in postseason play there is no way to know everything about players you'd like to know to get it done like you want," said Hoffman.
BYU opened the game with three bombs on the Bears. Two of those three were by Carlino. He added his third to give the Cougars a 26-11 lead, which kept Mercer off balance and in a chase.
The Bears feature an executing machine of an offense. They're very efficient. But they found themselves trading twos for 3s against the Cougars.
A Carlino 3 just before halftime put BYU up 41-28, part of a 12-2 BYU run that ended on another trey by Brock Zylstra. Carlino's fifth 3-pointer put the Cougars up 62-53, again answering a short run by the Bears.
Said Hoffman: "I think he was was as good as anyone we've seen anywhere, any time, any place. I've seen a lot of good guards and I thought he was big time tonight. I think that is in part of being freed up, getting new life and getting it done."
Dick Harmon, Deseret News sports columnist, can be found on Twitter as Harmonwrites and can be contacted at [email protected].