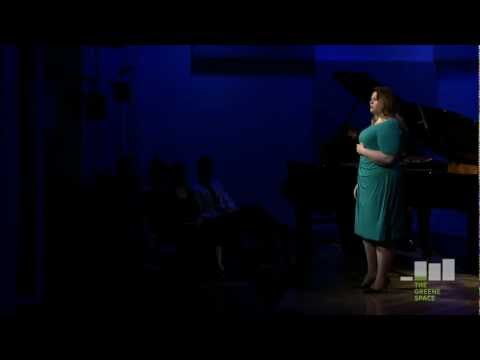 View 5 Items
YouTube

We just did it as an experience to understand how things work and the format. So it was just a way of getting experience and somehow I won. Every time I see my teacher we just look at each other and say, 'This is crazy. How did this happen?'

—Rebecca Pedersen
Rebecca Pedersen, a sophomore at Brigham Young University, is a grand-final winner of the Metropolitan Opera competition, one of the most prestigious opera competitions in North America—and she's been singing for only three years.
Three years ago, not only was she not singing, but she didn't even like to sing. Much to her mother's dismay, Pedersen never thought her opinion of that would change.
"I went to a voice lesson with my mom and came out and said, 'Geez mom, you have fun with that because I am never going to take voice lessons,'" said Pedersen, now 21. "You do some really weird things and I just thought it was weird."
Her ward choir for the Church of Jesus Christ of Latter-day Saints was the only choir she participated until her senior year in high school.
"I started singing my senior year of high school mainly because I had to take an art class," Pedersen said. "My choir teacher said, 'You've got a good voice. You need to sing and really think about taking voice lessons.'"
It wasn't until Pedersen's mother dragged her to a BYU concert to see a famous soprano perform, that her interest in singing was piqued.
"I'd never been introduced to opera, and I fell in love with her performance," Pedersen said. "We went to the master class at BYU the next day, and I said to my mom, 'I think that I could do that.'"
One year later, Pedersen found herself in what she had previously dreaded — a voice lesson class.
"My teacher at my first lesson said, 'I think you have the kind of voice that could sing at the Met,'" Pedersen said. "I didn't even know what the 'Met' was, so I went home and 'Googled' what it was and was like, 'Wow, that's really cool.'"
Once Pedersen recognized the possibilities her talent could bring, she said she was determined to improve. She teamed up with BYU professor Darrell Babidge and began to train her voice.
When the auditions for the Metropolitan Opera competition came to Salt Lake, Pedersen and Babidge decided to check it out. Pedersen soon became more than a bystander. She competed in four rounds, traveling to Denver and then New York for the semifinal and final rounds. Out of the initial 1,800 participants, Pedersen was chosen as one of the six grand-final winners.
"We just did it as an experience to understand how things work and the format," Pedersen said. "So it was just a way of getting experience and somehow I won. Every time I see my teacher we just look at each other and say, 'This is crazy. How did this happen?'"
Not only did Pedersen's performance of "Pleurez, pleurez mes yeux" from Jules Massenet's 1885 opera "Le Cid" award her a cash prize of $15,000, but she is viewed as an investment to the Metropolitan Opera.
"They are not just selecting winners to give money to to further their education," Pedersen said. "They are making investments for the future and giving you tools and coaching so that you can become the best singer you can be."
The investment does not mean Pedersen is a shoo-in to perform with the company but she said it puts her in a great position for the future.
"The thing is that I'm so young, they don't really know what to do with me," Pedersen said. "They said, 'Go home for a few years and mature and polish your voice,' so that's what I'm going to do."
When describing her experience, Pedersen agreed with Babidge regarding the magnitude of the competition.
"There is nothing like it, even in competitions throughout the world, with the amount of coaching and time and effort that the Met staff puts in," Pedersen said. "It's definitely the Super Bowl of singing competitions."
The past three years have been an emotional ride for Pedersen, but she acknowledged those who have made it possible for her.
"I always say it this way: I say first God, because he gave me the gift; then my mother because I wouldn't be here without her and then Darrel Babidge because I wouldn't have the technique and training without my teacher."
Sarah Sanders Petersen is an intern for Deseret News where she writes for Mormon Times and other feature articles. She is a communications major and editing minor from Brigham Young University. Her views do not necessarily represent those of BYU.