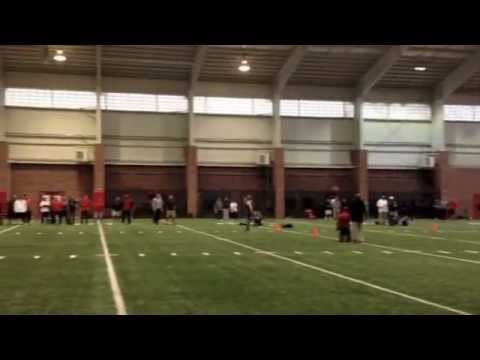 View 2 Items

SALT LAKE CITY — Utah defensive coordinator Kalani Sitake is a big fan of NFL Draft prospect Star Lotulelei. Before Wednesday's "Pro Day" up on the hill, Sitake had nothing but good things to say about the defensive tackle.
"He's going to be a real good NFL player. There's a reason why guys can't write him off," Sitake said. "All you have to do is watch the film. He's a dominant force and when he wants to be, he'll be the best player on the field."
Although an abnormal echocardiogram prevented Lotulelei from participating in drills at last month's NFL scouting combine, the 6-foot-3, 314-pound defensive tackle has been re-tested at University Hospital and was cleared to show what he can do for the 30 scouts and coaches who made the trip to see him in Utah.
Lotulelei didn't disappoint. The potential No. 1 overall draft pick had 38 reps on the bench press, a vertical jump of 30 inches, as well reported times of 5.31 in the 40, 4.65 in the short shuttle and 7.76 in the three-cone drill.
As for his heart, Lotulelei said doctors told him everything looked fine. The abnormality on the combine test, he continued, might have been from a cold or something earlier in the year. An echocardiogram in Utah indicated that things were improving and the situation will apparently be completely resolved before next month's NFL Draft.
"I really don't care how he would test to be honest with you. I would still take him," Sitake said. "I don't think it's a big deal. He played more plays than any other d-tackle in the country."
Sitake noted that Lotulelei was on the field for about 70 plays per game. Most guys that big, he added, go about 40-45.
"There were times he pretty much played the whole game. So I wouldn't be worried about him," Sitake explained. "Then again, if I was an NFL team I wouldn't be telling everybody else that I think he's healthy and I'm going to take him. So I think there's a lot of posturing going on right now."
Sitake added that the difference between Lotulelei's sophomore and senior seasons has been unbelievable and praised the player's maturity.
"There's a reason why there's still a lot of buzz going on about the kid. I'm so excited for him," Sitake said. "Regardless of where he goes and what pick he's going to be, he's going to be successful. I'm just really excited to see him play on Sundays."
SAME AS THE FIRST: Because of inclement weather, Utah's second spring practice was moved to Rice-Eccles Stadium. Although the venue changed, what happened on the field was pretty much the same as it was two days earlier on the grass practice field.
"It was good, a lot of similarities to Day 1," said Utah coach Kyle Whittingham, who noted that the sessions featured a lot of install, implementation of schemes and getting things up to speed.
Things, however, will kick up a notch at the next practice.
"We get to put the pads on Saturday, which will be a good thing," Whittingham said.