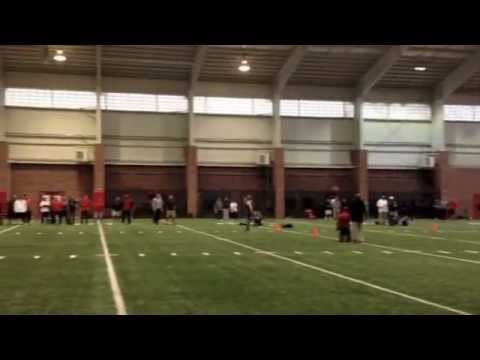 View 3 Items

Star Lotulelei and Reggie Dunn produced the most mind-boggling performances at the University of Utah pro-day on Wednesday, but several other athletes also were evaluated and performed well.
Deseret News reporter Amy Donaldson was on the hill along with Dirk Facer and Brad Rock. She filmed several different performances by the former Utes looking to impress NFL scouts. This is a compilation of some of the more notable performances that occurred Wednesday at Utah's pro day.
Star Lotulelei turned in an impressive all-around performance, which was the first chance scouts had to evaluate him. He was previously asked not to participate in the NFL combine because of a heart condition that was detected shortly before the combine.
Tests showed his left ventricle was working at 44 percent efficiency, well below the normal range of 55-70 percent. Upon returning to Utah, he was re-evaluated and cleared to play.
Lotulelei, who will be re-tested by the NFL next month, was cleared to participate in Utah's event on Tuesday. He did not disappoint. He posted 38 reps on the bench press (225 lbs.), a 30-inch standing vertical and a 4.65 40-yard dash.
Reggie Dunn, the All American kickoff return specialist, posted the fastest time in the 40-yard dash at 4.22, a personal best for Dunn.
Additionally, Super Bowl champion linebacker Paul Kruger attended Utah's pro day to watch his brothers, Dave and Joe, be evaluated by the 30 pro scouts in attendance.
Besides Lotulelei, Dunn and the Krugers, Pro Day participants included Boo Andersen, Sam Brenner, DeVonte Christopher, Lorenzo Ford, Jon Hays, Ryan Lacy, Moe Lee, Miles Mason, Luke Matthews, Kendrick Moeai, Joape Pela, David Rolf, Sean Sellwood, Sausan Shakerin, Tevita Stevens, Reggie Topps, Lewis Walker and John White. Ex-Southern Utah quarterback Brad Sorensen was also in the group.
Landon Hemsley is the sports content manager for DeseretNews.com. Email: lhemsley@deseretnews.com. Twitter: @EarlOfHemsley