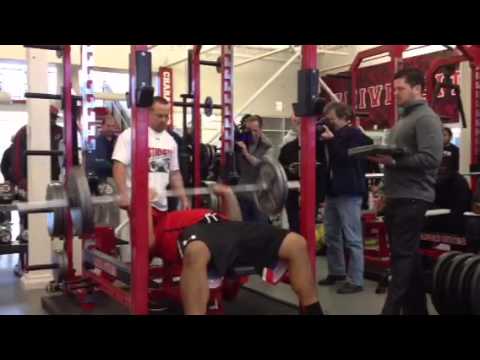 View 39 Items



SALT LAKE CITY — Star Lotulelei's career path appears to be back on track. The defensive tackle put on quite a show at Utah's Pro Day, participating in every drill and test less than a month after an echocardiogram at the NFL Scouting Combine detected a heart abnormality.
Lotulelei was asked not to participate in drills in Indianapolis after tests showed his left ventricle was working at 44 percent efficiency, well below the normal range of 55-70 percent.
After returning to Utah, Lotulelei was re-evaluated at University Hospital — undergoing a CT scan, an echocardiogram and a treadmill test.
"They said everything looked fine. They said it might have been from a virus that I might have had from a cold or something earlier in the year and now my heart is just slowly getting better from that," Lotulelei explained. "So they said my tests that they had from here already look better and show improvement from what they saw at the combine."
Lotulelei, who will be re-tested by the NFL next month, was cleared to participate in Utah's event on Tuesday. Representatives from 30 teams (all except Dallas and St. Louis) were on hand as the potential No. 1 overall draft pick posted some impressive performances — 38 reps on the bench press, a vertical jump of 30 inches, plus reported times of 7.76 in the three-cone drill and 4.65 in the short shuttle.
"I came out here and gave everything I had. I've been working hard since I came back from the combine," Lotulelei said. "I had to wait a little bit to get that second opinion but after that I was working real hard. So it was definitely a good thing to come out and participate in all these drills."
Lotulelei noted that he was shocked and disappointed by the echocardiogram results at the combine. He "really wanted to go out there and work with the best of the best" in the NFL draft class.
Even so, Lotulelei said, "Everything happens for a reason."
The 6-foot-3, 314-pounder was pleased, however, with how things went in Salt Lake City.
"I feel pretty good with the drills and everything," Lotulelei said. "I think I showed that I can move around very well for a big guy."
Lotulelei, who already has an individual workout scheduled with the Philadelphia Eagles, noted that it was also good to see his Utah teammates again.
All-America return specialist Reggie Dunn headlined a group of 22 former Utes participating in Pro Day. He ran a personal-best 4.22 in the 40.
"After the season I got right to work," said Dunn, who didn't play in any postseason all-star games. "I was just looking forward to this day for three months and the results came out pretty good."
Dunn had a 36-inch vertical leap, a 10-foot-1 measurement on the broad jump and 17 reps in the 225-pound bench press. He also did well receiving and was sharp in the other drills.
"I hope a team likes me and they ended up picking me up," Dunn said. "I think I did pretty good overall."
Others seeking to make their mark before the April 25-27 NFL Draft included the Kruger brothers, Dave and Joe.
The defensive linemen were supported by their older brother Paul. The former Ute, who helped Baltimore win the Super Bowl before signing a $40-million deal with Cleveland, carried a video camera around during the workout.
"It's just exciting to see them go through the process," said Paul, who recalled his Pro Day five years ago. "These guys prepare hard. I've been watching them go through the training process for the past couple of months."
Watching them perform well, he added, has been fun.
Brother-in-law Tony Bergstrom of the Oakland Raiders was also on hand to watch his former teammates. He was an NFL rookie last season.
"They're ready for it. They've done everything they need to," Bergstrom said. "They've got nothing to be nervous about."
Besides Lotulelei, Dunn and the Krugers, Pro Day participants included Boo Andersen, Sam Brenner, DeVonte Christopher, Lorenzo Ford, Jon Hays, Ryan Lacy, Moe Lee, Miles Mason, Luke Matthews, Kendrick Moeai, Joape Pela, David Rolf, Sean Sellwood, Sausan Shakerin, Tevita Stevens, Reggie Topps, Lewis Walker and John White. Ex-Southern Utah quarterback Brad Sorensen was also in the group.
Email: dirk@desnews.com Twitter: @DirkFacer