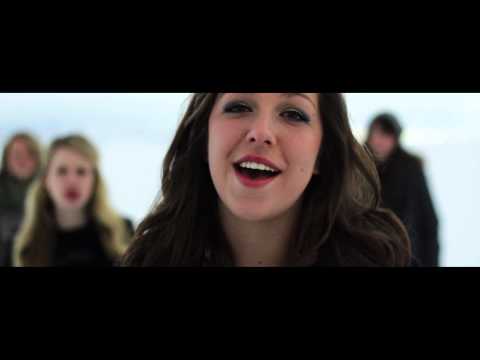 View 2 Items

Noteworthy, a nine-member all-female a capella group from BYU, is making a splash in the music scene.
With a recently released music video featuring a combination of David Guetta's song "Without You" and Mumford & Sons' "I Will Wait," Noteworthy made its debut on YouTube at the end of February. Since then, the number of views of its video has reached more than 95,000.
"We were so surprised. We were just so flattered," said Jennifer Riding, a member of Noteworthy. "Being able to put this video out was so nice. We were so dazzled with how many views we've gotten."
According to group member Lauren Myrick, who is also the group's business director, the idea for the music video came from a list of Noteworthy goals that has been passed down since the group was established.
"As we reviewed (the list) at the beginning of the year we saw one goal was to make a music video. … So we went out and filmed," she said.
With the success of its debut music video in mind, the group is working on its second.
"Right now we're trying to figure out the best song to do another one. We're hoping to get it done within the month," said Myrick.
The group was established in 2004 and since then members have moved on and new members have joined. Each year, the group holds auditions in August to fill the opening slots, so the group dynamics are constantly shifting. This year, there was only one returning member and music director, Tatiana Quinn.
"I was very nervous, but it ended up being really great because everyone came in with fresh eyes and fresh ears," said Quinn. "We just got really lucky. The girls that all came in have great attitudes and great voices."
Over the years the group has checked off several of the goals from its list. It traveled internationally to Hong Kong and performed on national TV when it competed on NBC's "The Sing-Off" in 2009. In the future, the singers are hoping to travel internationally again and to purchase their own sound system.
Noteworthy has produced three CD's, "On the Horizon" in 2006, "Green Means Go" in 2009 and "Defined" in 2010, which are available on iTunes. The group's single "Without You/I Will Wait" is available for purchase on iTunes and Amazon.
The group will be performing April 12, 7:30 p.m. at the Covey Center for the Arts, 425 W. Center, Provo. Tickets are $10 for general admission, $8 for students and seniors, and $12 for couples. Tickets can be purchased by calling the box office at 801-852-7007 or by visiting www.coveycenter.org.
For more information about Noteworthy visit www.noteworthy9.com.