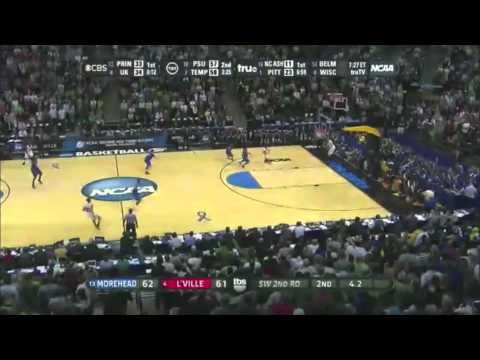 Morehead State, its program and fans considered Demonte Harper a hero when his 3-pointer with 4.2 seconds left gave the 13th-seeded Eagles an upset win over No. 4 Lousiville in the 2011 NCAA Tournament on March 17, 2011.
There were those who didn't appreciate Harper's heroics, namely those who filled out bracket predictions.
The Eagles lost in the following round to another upset victor, Richmond, in one of the more wild versions of March Madness in recent history. Four double-digit seeds reached the Sweet 16, with 11th-seeded VCU making it all the way to the Final Four.
Comment on this story
Morehead State, however, was the lowest-seeded team to make it out of the Round of 64. The fact that it came against in-state opponent Louisville made the story even more compelling.
While Harper was the hero of that specific game, NBA fans would probably recognize another name on the Eagles' roster that year: Kenneth Faried, the current starting power forward for the Denver Nuggets.
Faried, taken 22nd overall in the NBA Draft that summer, scored 12 points and grabbed 17 rebounds in the win over Louisville.
Matt Petersen is the sports Web editor for DeseretNews.com. You can follow him on Twitter at @TheMattPetersen.