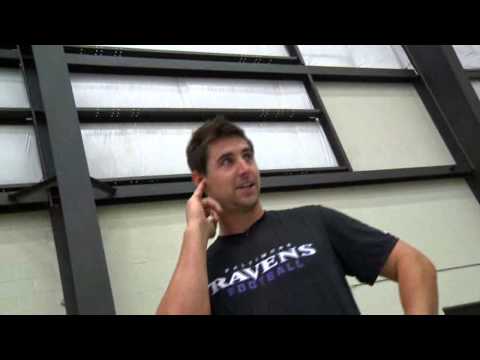 View 2 Items

Baltimore Ravens tight end Dennis Pitta, a restricted free agent, has drawn "preliminary inquiries" from interested NFL teams, according to a Baltimore Sun report.
Before the NFL's free-agency period began Tuesday afternoon, it was reported the Ravens issued Pitta a second-round tender. The former BYU tight end would receive $2.023 million next season if he signs the tender.
Being a restricted free agent, however, Pitta could sign an offer sheet from another team and Baltimore would have a week to match the offer to retain him. If the Ravens didn't match an offer, they would receive a second-round pick as compensation from the team that signed Pitta.
The Sun's report, citing NFL sources, said there are no offer sheets submitted for Pitta at this point.
"The restricted free agent market is notoriously dead, but NFL teams do have a high opinion of Pitta," the Sun's Aaron Wilson wrote.
"It's unclear if the interest of teams will translate into any action regarding Pitta, though."
Late Friday morning, The Miami Herald's Adam Beasley tweeted, "Per a league source, the Dolphins did express interest in Dennis Pitta, but that interest has now dried up with the (Dustin) Keller signing."
Keller, a free agent tight end who played his first five NFL seasons for the New York Jets, reportedly agreed to a one-year deal with Miami on Friday.
According to ESPN's Andrew Brandt, 20 restricted free agents — three-year players whose contracts have expired — changed teams by signing offer sheets from 2003 to 2008. Since then, however, just one restricted free agent has switched teams via an offer sheet. In 2010, running back Mike Bell went from the Saints to the Eagles in a one-year deal.
Brandt explained that restricted free agency could be essentially of little consequence in the future because of the NFL's new Collective Bargaining Agreement that requires rookie contracts to be a four-year term.
"The only remaining RFAs will be undrafted players or players who washed out before the fourth year," Brandt wrote. "With every drafted player between 2011 and 2020 — more than 2,500 players — signing for four years, the NFL and NFLPA have eliminated this entire class of free agent."
The defending Super Bowl champion Ravens have already lost several players during the offseason, due to salary-cap constraints. That includes top wide receiver Anquan Boldin, who was traded to San Francisco, and free-agent linebackers Paul Kruger and Dannell Ellerbe, who signed with the Browns and Dolphins, respectively. The team also released safety Bernard Pollard and reports are surfacing that the Houston Texans have interest in signing long-time Ravens safety Ed Reed.
Pitta, a fourth-round pick in the 2009 NFL draft, is coming off his most successful season as a pro, catching 61 passes for 669 yards and seven touchdowns during the regular season. In the postseason, he caught 19 passes for 163 yards and three touchdowns, including a 1-yard scoring grab in Super Bowl XLVII.
With Boldin gone, pending his passing a physical, the Ravens have already lost their team leader in receptions (65) and receiving yards (921) from last year. A potential Pitta departure means the team would also lose a tight end who was tied for second on the team in receptions last season, while also being third in receiving yards and second in touchdown receptions.
Pitta has also developed a strong chemistry with Ravens quarterback Joe Flacco, who recently agreed to a six-year, $120.6 million contract with Baltimore. During his time at BYU, Pitta enjoyed a similar situation with former Cougar quarterback Max Hall. That chemistry helped Pitta leave BYU as the school's all-time receptions leader.
"I've been fortunate enough to be good friends with both quarterbacks that I've played with, and it certainly doesn't hurt," Pitta told BYU Athletics during an interview when he was honored by the school at halftime of the BYU men's basketball game against Gonzaga on Feb. 28. "Joe is a great friend of mine, and it helps our chemistry on and off the field."
Email: [email protected]; Twitter: @brandonljudd