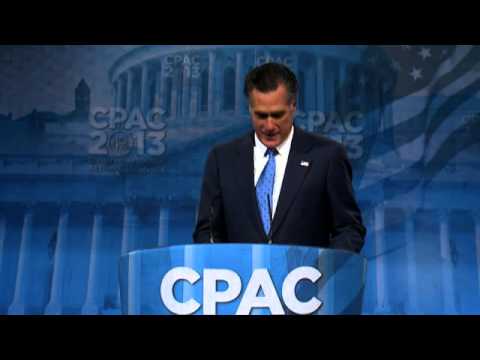 View 7 Items
YouTube

I would urge us all to learn the lessons that come from some of our greatest success stories, and that's the 30 Republican governors across the country. They're winning elections, but more importantly, they're solving problems — big problems. Important problems.

—Mitt Romney
Former Republican presidential candidate Mitt Romney took to the stage at the Conservative Political Action Conference in Washington, D.C., telling the audience that although he's sorry he can't be their president, he'll gladly work shoulder-to-shoulder alongside them as their co-worker.
Romney, who was greeted at the conference with a standing ovation, has maintained a relatively low profile since he conceded the presidential race to President Barack Obama in November 2012, being spotted at Disneyland, joining the board of Marriott International and emerging for a recent interview with Chris Wallace.
His message at CPAC this year, he said, was one of thanks and optimism.
"It's fashionable in some circles to be pessimistic about America, about conservative solutions, about the Republican Party," Romney said. "I utterly reject pessimism."
While Republicans may have lost on Nov. 7, they haven't lost the country, and they haven't lost their way, he said.
Highlighting stories of individuals he's encountered in his experiences, Romney talked about meeting determined Americans, men of God, heroes in the armed forces and heroes in the home.
Gov. Nikki Haley, R-S.C., introduced Romney, saying that he and his wife Ann had a love for the country that the election only strengthened. Romney returned the compliment, saying Americans and Republicans needed to learn from leaders like her.
"I would urge us all to learn the lessons that come from some of our greatest success stories, and that's the 30 Republican governors across the country," Romney said. "They're winning elections, but more importantly, they're solving problems — big problems. Important problems."
In his speech, Romney also emphasized the importance of a strong U.S. military and discussed the role America should play in the world. He highlighted U.S. efforts to fight AIDS in Africa, the philanthropic efforts of the country and its citizens, and its military interventions in places like Europe, Korea and Iraq.
"Whenever you think of these — whatever you think of these interventions — the impulse behind every single one of them was liberation, not conquest," Romney said. "What nation but ours would've enjoyed hegemonic military power for 25 years and never used it to seek revenge against its foes or to seize resources from the weak?"
The challenges facing the country today are not small, Romney said, and each individual has been summoned by history to step up and meet his or her responsibilities.
"In the end we'll win," Romney said. "We'll win for the same reason we've won before — because our cause is just and it is right. I want to thank you again for your support and your help along the journey."