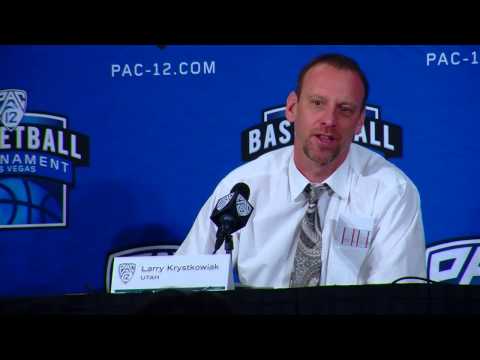 View 16 Items


LAS VEGAS — Shortly after Utah's 79-69 overtime victory over California in the Pac-12 Tournament, head coach Larry Krystkowiak had three words for Jarred DuBois and Jordan Loveridge before joining the players on stage for a post-game press conference.
"Well, well, well," Krystkowiak said.
No other words, perhaps, could describe the improbable win any better. In knocking off the second-seeded Bears, the 10th-seeded Utes advanced to Friday's tournament semifinals against Oregon. Tip-off is set for 9:38 p.m. MDT on ESPN.
Despite an overall record of 15-17, Utah is two victories away from an automatic berth in the NCAA Tournament. That, however, is not on the minds of the upstart Utes, winners of four consecutive games for the first time since 2009.
"We're just looking at it one game at a time. We can't look or get ahead of ourselves," said Loveridge, who finished with 20 points and eight rebounds. "We're just trying to play every game as hard as we can and try to see how far we can make it."
DuBois, the team leader with 21 points, noted that the Utes are approaching the situation as a one-game season.
"You win one night, you play the next," he said. "Plain and simple."
There was nothing plain and simple about Friday night's win, however. The Utes made some big plays when it counted most. They overcame an eight-point deficit in the final 11:30 of regulation. Loveridge hit back-to-back 3-pointers during the run and DuBois capped things off with a game-tying shot beyond the arc with four seconds remaining.
The graduate student said he knew it was going in.
Utah's confidence and momentum carried over into the extra session. The Utes never trailed after opening overtime with a basket by Jason Washburn and another 3-pointer from Loveridge. Cal never got closer than three over the final 3:31 of play. Utah extended its lead by game's end, finishing with a 13-6 spurt to more than seal the deal.
"I thought it was a fantastic college basketball game," Krystkowiak said. "Obviously, the result made it a little bit more appealing."
As expected, Cal coach Mike Montgomery saw things differently. He acknowledged it was obviously very disappointing for the Bears (20-11).
"We had our chances," Montgomery said. "We were there."
In the end, though, 26 points from Justin Cobbs and 21 from Allen Crabbe weren't enough to change the outcome.
"Give Utah credit. They're playing very, very well," Montgomery said. "Larry's done a great job with them. They're playing with a lot of confidence."
So much so, in fact, that the Utes snapped a run of 26 consecutive Pac-12 losses when trailing at halftime — ending the skid against one of just three conference foes they had yet to beat since joining the conference in 2011-12. Cal was 4-0 against Utah in that time, including triumphs in Salt Lake City (62-57) and Berkeley (64-46) earlier this season.
"There are not a lot of words for a win like that. Cal has been getting on us for the past two years in the Pac-12 and they beat us up this year, bad, both times," Washburn said. "To come out here and for this team to step up, it shows our growth. It showed us that a team can beat you 99 times out of 100 but that still leaves one time."
Despite holding an early seven-point lead, Utah trailed 33-32 at halftime.
Cobbs had 13 points for the Bears, who capitalized on a 14-10 rebounding advantage and were 6-for-6 from the foul line. The Utes only shot two — making both — in an opening half that featured seven ties and five lead changes.
Utah came out with a hot hand. The Utes connected on eight of their first nine shots from the field while building an 18-11 lead less than six minutes into the game. DuBois, who had a game-high 15 points in the half, fueled the outburst with back-to-back 3-pointers and a basket early on. Washburn, Dakarai Tucker and Loveridge also scored in the run.
Cal responded with a 7-0 burst to even things up less than three minutes later. Three lead changes followed before the Bears made four free throws in the final 1:46 to hold an edge at the intermission. They did so despite getting limited contributions from Crabbe, the Pac-12 Player of the Year. The conference scoring leader had just six points on 2-of-6 shooting in the first half.
However, when play resumed, Crabbe heated up and quickly scored five points to help the Bears during a run that extended their lead to 44-36. The Utes went scoreless for 6:44 before mounting a comeback that put them ahead at 50-48 with 6:46 to go. Another drought, lasting more than 4½ minutes, soon followed — allowing Cal to reclaim the lead. The Bears remained in front until DuBois evened the score with his late 3-point shot.
"We had to step up and make big plays. It was an emotional game for us because we haven't made it this far as a group," said senior Cedric Martin. "So we are just living off the moment right now. We are putting this game in the past and moving on."
To the semifinals, that is.
Email: [email protected]
Twitter: @DirkFacer