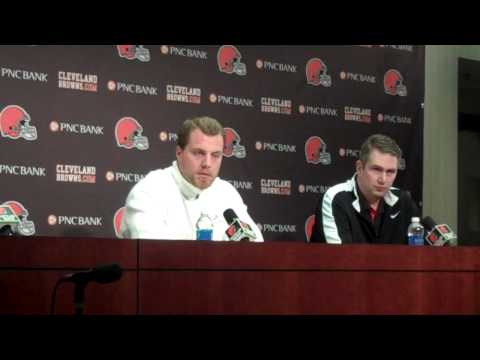 View 2 Items

Paul Kruger cashed in earlier this week on his 2012 breakout year with the Baltimore Ravens, and now the expectations are there to live up to the money.
Kruger, the former Utah defensive end who had nine sacks from his outside linebacker position during the regular season for Baltimore, signed a five-year deal with Cleveland on Tuesday. The deal is reportedly worth $40 million, with $21 million guaranteed.
His deal was one of the most talked about around the NFL during Tuesday's opening day of free agency. Kruger has started just seven games in his four-year NFL career, but his performance last season, which included 4 ½ sacks and a forced fumble in the postseason, helped raise interest in the Timpanogos High School graduate.
The Cleveland Plain Dealer's Terry Pluto said the move, even if Cleveland overpaid for Kruger, makes sense for the team: "Remember the Browns have no one — absolutely no one — who was a premier pass-rusher as a 3-4 outside linebacker."
Marla Ridenour, a columnist for the 
Akron (Ohio) Beacon Journal, said it was a good move but suggested the Browns shouldn't stop there, saying Cleveland should draft another pass rusher with the No. 6 pick in April's NFL draft. Ridenour listed possible Browns draft picks, including BYU's Ezekiel Ansah as the sixth pick.
The amount of money Cleveland spent to acquire Kruger was a sticking point among various media.
"It's easy to criticize the Browns for overpaying for Kruger," ESPN's Jamison Hensley wrote. "But the Browns did have the cap room to afford it."
ESPN's NFL Live crew credited Kruger as a player who will give an all-out effort, even if he isn't the most talented, but analyst Tim Hasselbeck questioned whether the Browns should have spent so much on him.
"He'll be appreciated in the locker room (for his effort), but I don't know those are always the guys you want to be paying $10 million dollars a year to," Hasselbeck said. "And I think that ends up being the catch."
The Browns hired a new defensive coordinator during the offseason, grabbing Ray Horton from the Arizona Cardinals. Horton, who spent the past two years as the Cardinals' defensive coordinator, will be implementing a 3-4 defense in which Kruger is expected to make a big impact, both pressuring the quarterback and defending the run.
Kruger said he is looking forward to stepping into a leadership role with Cleveland.
"It's something I wanted to step into. And that's part of the reason I wanted to come here," Kruger told Browns play-by-play announcer Jim Donovan in an exclusive interview at clevelandbrowns.com. "But at the same time, you have to understand that there's always a respect level that has to be earned. Trust isn't given.
"You have to understand that as a player. I'm going to have to become friends with these guys and get to know each other before any of that happens. But definitely, I am excited to be a guy that people can look to to make plays. I feel ready for that."
Browns CEO Joe Banner said during Kruger's introductory press conference on Wednesday that the team noticed improvement in Kruger's play as he's earned more time on the field.
"I think anyone playing against him or observing has been noticing him," Banner said. "Finally this year he got up to I think it was 69 percent play-time and you saw the type of production when he became really a full-time player and what that led to."
Browns head coach Rob Chudzinski said Kruger will bring versatility to the Browns' defensive front.
"When you do get into some of the nickel package, sub-package, four-down, he can play defensive end," Chudzinski said during Wednesday's press conference. "He also is a move around guy. He can play both sides. Paul's versatility and his ability to play multiple positions was also a major factor in us wanting Paul to be here."
One of the criticisms Kruger has dealt with from the media is that he isn't seen as a strong defender against the run. But Chudzinski showed confidence that Kruger can be an every-down player.
"He's going to outwork people on the field," the coach said. "Obviously, you know his pass rush ability and his explosiveness there, but you see those abilities in the run game. That's what we are looking for in Paul, is to be able to play and be a three-down player."
Kruger's goals for himself in Cleveland run along those same lines.
"I remember watching the Browns last year, when we were on offense I would watch, and I was really impressed with the way their d-line played and how aggressive they were," he said Wednesday. "I just think that is the biggest thing I want to change, just being somebody that you can rely on during a whole game. I think I was deemed as a pass rusher only. I think I will be able to show people that I can be effective on every down."
No matter how Kruger's career with the Browns ends up, it will be highly scrutinized.
"If Kruger ends up just being a piece of the Browns' new defense, this is a good addition," ESPN's Hensley wrote. "If Kruger is supposed to be the key piece, the Browns will end up disappointed."
Kruger said he will miss his former teammates with whom he won a Super Bowl title with, but he is looking forward to the opportunity to prove himself.
"Terrell Suggs, Ray Lewis, Haloti Ngata — those are older brothers to me," he said. "They are guys who I text on a daily basis and am very close with. But I definitely see that as an opportunity for me to show that I can do a lot of good things."
Email: [email protected]; Twitter: @brandonljudd