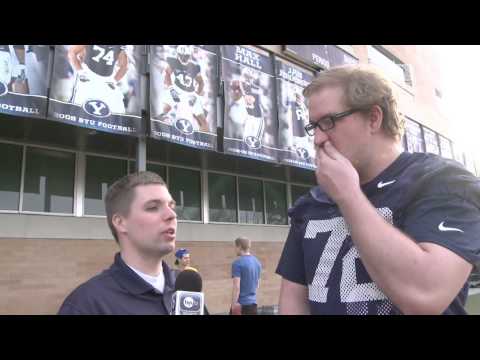 View 6 Items



PROVO — In part due to breaking in a brand new offensive coaching staff that's installing a new, up-tempo brand of offense, BYU coach Bronco Mendenhall said spring practices are a rebirth of sorts.
"It's a renewal, an invigoration, and a re-establishment of focus for what's truly possible in our program," Mendenhall said.
While his team struggled through a disappointing 8-5 season last fall, Mendenhall knew changes needed to be made. During the winter, changes were made. As a result, nobody is exactly comfortable — something that Mendenhall sees as a positive.
"Anytime there are changes, being comfortable isn't an option," he said. "Everyone is out of their comfort zone, which promotes growth. Coaches are out of their comfort zones as they take new jobs and meet new players and establish relationships. Our staff is not comfortable as we redefine roles and transition. Even though we've added new people, I've also made changes to the off-season workouts for the players, increased our demands, re-organized our recruiting efforts, and looked at every possible way to move the program forward and gain advantages. Having said all that, the consistency of the program over all this time are the type of kids and people that come. So it's to preserve the core, but stimulate the progress around it."
More than one week into spring practice, Mendenhall likes what he's seeing from his team so far.
"I think we're making progress. We're certainly pushing them really hard," Mendenhall said. "We're demanding a lot of work and getting a lot of volume in a very short amount of time with really high intensity and super-fast tempo. The offense is progressing very, very quickly with a lot of work to go … I'm really encouraged by what I've seen to this point."
Mendenhall said the first few practices were about "just establishing how hard practices were going to be. But (Wednesday) I saw a noticeable difference, especially offensively, in the shift toward a little bit cleaner execution."
Mendenhall is spending more time watching the offense than he has in past seasons.
Just days before the opening of spring ball, Mendenhall announced that he was relinquishing his title as defensive coordinator, giving that to Nick Howell. Mendenhall will continue to call the defensive plays during the season, however.
But during the spring, "I haven't called a defensive play yet this spring. I don't intend to," Mendenhall said. "This spring, I'm watching both sides and making sure the practices are going exactly the way I want it to from an effort standpoint, from a tempo standpoint, and really, from a will standpoint. That's what I'm focused on this spring."
Mendenhall said Howell's promotion to defensive coordinator would allow him to spend more time being a head coach.
"Any time I'm called away to do head coaching responsibilities and leave the defensive room, (Howell) provides the continuation of an existing structure. There really won't be any change at all in the way our defense runs on a day-to-day basis, other than the formalization of what he's already be doing. I'll still be the play-caller. Nick and I work very well together. But I need significant help in dotting all of the i's and crossing all of the t's and all the legwork that is so important organizationally."