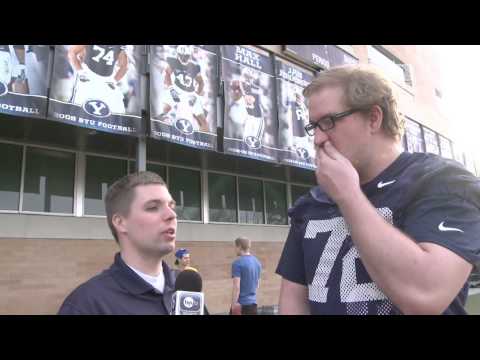 View 4 Items



PROVO — Romney Fuga left a gaping hole in the middle of the defense that coaches are working hard to fill this spring. Nose tackle is arguably the most critical position of a 3-4 defense, and adequately replacing Fuga's play from last season will be vital for the overall success of the defense.
Through five practice sessions, defensive coaches have used two nose tackles — junior college transfer Marques Johnson and true freshman Tuni Kanuch. While both have shown potential, they have a long ways to go to match the play collectively that Fuga provided individually.
"Neither of them are close to where Romney was nor close to where the nose tackles have played here for a long time," said coach Bronco Mendenhall. "They're learning and they're capable, but they need every rep they can get all spring and all fall camp to get to the point where I'd feel comfortable."
Johnson is hopeful to end this spring session healthy after suffering what proved to be a season-ending injury last spring.
"That was real tough for me and it happened in just my second practice here," Johnson said. "I tore my labrum and I couldn't go in time for the season, but I'm back now and I'm ready to go. I feel new, but I'm excited about the opportunity to help this defense."
Nose tackle is a physically demanding position, and Johnson is feeling the effects of seeing half the reps.
"You go in, take a few reps, go back out and feel you can rest a bit, but then you're right back in there," Johnson said. "Tuni (Kanuch) is going through the same thing, but we're real supportive of each other. Our lockers are right next to each other, so we talk all the time and he's a great player and he's giving me good competition and hopefully I'm doing the same for him."
Both players are undergoing an overhaul with their basic technique. While focusing on getting in the backfield as quickly as possible, BYU's scheme involves a lot of so-called "two-gap" play where the nose tackle focuses primarily on lateral movement.
"Romney was a master at two-gaping and I learned so much from watching him, but I'm getting there," Johnson said. "Romney was so good with hands and I tried working with him every day when he was here. Now coach Mendenhall and coach (Steve) Kaufusi are more involved, and every time I'm doing something I have coach Mendenhall behind encouraging me, but always telling me that I can do it better."
IPF hard on ACLs
The team practiced outside today, and Mendenhall intends to be outside as much as possible moving forward. The reason is the avoidance of leg injuries — particularly ACL injuries, which Mendenhall believes are more common practicing on the artificial turf inside as opposed to natural grass.
A day after Trent Trammell suffered his ACL injury, walk-on Tanner Huber went down with the same injury.
"There are some who will say there's no correlation there (with the injuries happening on artificial turf), but I say there is," said Mendenhall. "Hopefully we can be outside as much as we can."
Familiar faces
Former BYU linebacker Bryan Kehl was in attendance at Wednesday's practice, along with Joe Sampson, who was suspended from the team last season. Following the session, Kehl challenged Kyle Van Noy to a race — challenging Van Noy to break his combine mark of a 4.56 forty. Van Noy walked away and suggested that he could break that time "running backwards."
Odds and ends
— Taysom Hill saw the majority of reps and completed a flare pass to Adam Hine in team drills, which Hine took 40 yards to the end zone. Mendenhall mentioned that Hine is at the No. 2 running back spot with Michael Alisa still limited with injury.
— Linebacker Teu Kautai ended team drills by picking off a pass from Hill that was tipped at the line of scrimmage.
— Hill is said to be at just 80 percent physically, but through five practices it's hard to notice. "His 80 looks like 100 for a lot of us," Mendenhall said.
— Quarterback Jason Munns suffered a concussion last week and has been held out of practices so far this week.
Email: [email protected]
Twitter: @BrandonCGurney