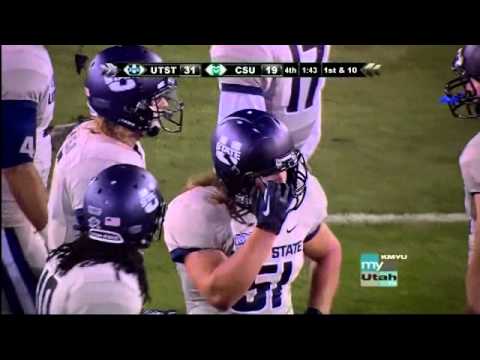 View 4 Items

ST. GEORGE - Jake Doughty, the All-WAC starting linebacker for the Utah State Aggie football team, was arrested in St. George Tuesday evening and faces a misdemeanor charge of supplying alcohol to minors.
Doughty was boating at Sand Hollow State Park with several women, two of whom were under 21. When park rangers stopped the group for a boat inspection, they asked if anyone had been drinking, according to a probable cause statement filed in the Fifth District Court.
Initially, officers were told that only the adults were drinking, but then the two underage girls admitted to drinking as well. Officers asked the girls to submit to a breath testing device, which revealed that indeed they had been drinking, court documents said. Officers then asked how the girls acquired the alcohol.
"The females state Jacob and Jamaica did it," court documents said. Jacob refers to Jake Doughty, while Jamaica refers to Jamaica Alisa, an alumni of Snow Canyon High who is now a junior at Utah State. Alisa is an outside hitter for the Aggie volleyball team.
Alisa was questioned by officers and said that while she was given money to purchase alcohol, she gave the money to Doughty because she did not have identification with her. Doughty then confirmed that account, telling officers that "he was responsible for everything."
Doughty now faces a class A misdemeanor charge, which carries a potential penalty of one year in jail and a $2,500 fine. The Sandy native had another case pending in Washington County for a class B misdemeanor possession of a controlled substance. He entered a plea in abeyance in that case, which means the charge would have been dismissed if he hadn't acquired any new charges through June of 2013.
Doughty appeared in court Wednesday and entered a plea of not guilty. A preliminary hearing has been set for April 29.
The linebacker who graduated from Juan Diego High School led the Aggies in tackles this season. He earned 36 solo tackles and assisted on 73 tackles over USU's 13 games this fall. He was named to the All-WAC first team, along with seven of his teammates.
The mechanical engineering major earned Academic All-WAC honors this fall.
Twitter: adonsports
Email: adonaldson@desnews.com