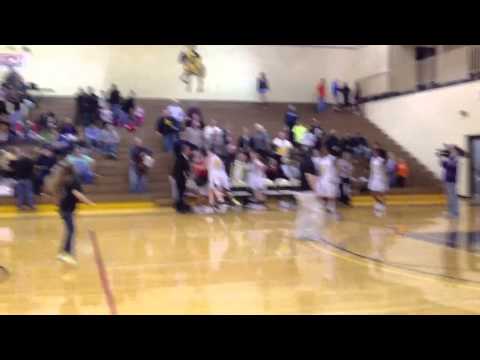 View 3 Items


Athletes young and old love to celebrate big wins, and few traditions are as revered as the gatorade shower on the gridiron.
Yet, the gatorade shower has struggled to make an appearance in other sports, namely, basketball. Perhaps it's because "Caution: Wet Floor" signs are necessary in the immediate aftermath.
Case in point: The North Platte Community College women's basketball team. In the final moments of their massive District F NJCAA playoff win against the Dakota College at Bottineau Jacks, the girls snuck up on their head basketball coach, Richard Thurin, gatorade cooler in tow, and promptly doused him.
Thurin instinctively backpedaled from the attempted gatorade shower, but his shoes lost their grip, Thurin lost his balance and down he went with a thud. Suddenly, the celebration didn't seem fun anymore.
The situation only got worse when a spectator came down from the stands to help and promptly slipped on the wet floor as well, falling with an equally dramatic thud.
Perhaps these young ladies were inspired by NBA All-Star Paul Pierce's 2008 antics.
Comment on this story
In the closing moments of game six of the 2008 NBA finals, Boston held a 40-point lead with less than a minute remaining. Pierce sneaked up on head coach Doc Rivers and gave his coach the gatorade shower. Rivers, however, managed to keep his footing as the two embraced.
No word if the floor staff broke out the "Caution: Wet Floor" signs after that game, though.
Credit must go to Abby Thurin, the coach's granddaughter, for filming the failed celebration and posting the video to YouTube. Also, thanks to Burke Olsen for the tip.
Landon Hemsley is the sports content manager for DeseretNews.com. Email: lhemsley@deseretnews.com. Twitter: @EarlOfHemsley