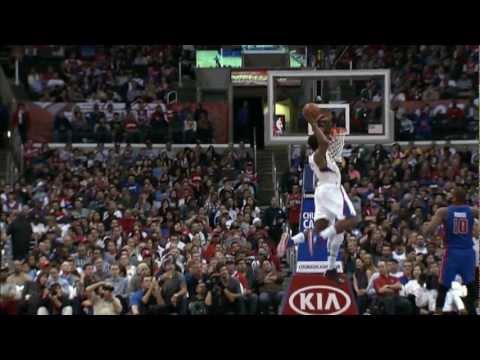 View 3 Items

SALT LAKE CITY — Utah Jazz players had mixed reactions to the leading candidate for the dunk of the millennium.
Before you read another word, do yourself a favor and watch this DeAndre Jordan dunk over Brandon Knight. Clipper point guard Chris Paul started the alley-oop with a sweet lob that Jordan leaped to catch and then SLAAAAAAM over the Pistons small point guard.
Twitter hasn't stopped exploding over the dunk, which happened Sunday night.
Side note — Here's how a certain snarky beat writer @DJJazzyJody described it:
ICYMI: DeAndre Jordan and Brandon Knight did a one-play act of Lakers overtaking Jazz in the playoff standings. youtu.be/1_rKW3HL9GE— Jody Genessy (@DJJazzyJody) March 11, 2013
So, your reaction, former NBA dunk champion Jeremy Evans:
"I just thought it was a great pass (by Paul) first of all. For (Jordan) to go up and catch it and not worry about the defender right there. Man!" Evans said. "It was amazing. I was just like, 'Man, why did (Knight) jump?'"
Evans then defended the defense of Knight, whose Pistons (23-42) will take on the Jazz (32-31) tonight at EnergySolutions Arena.
"I guess that's what good defenders do, though," Evans said. "You don't worry about what's going to happen. You just go for the ball wherever it is. I thought it was a great play."
Best dunk of the year?
"I haven't seen all of them, so I can't say that," Evans said. "I know Blake (Griffin) has had some great ones."
Jazz point guard Earl Watson, who used to joke that he was Evans' dunk agent, doesn't agree.
He wasn't as impressed as everybody else about Jordan's jam.
"I don't think it's the best dunk of the year. He's supposed to do that. He's like 7-1 and B's 6-foot," Watson said. "It'd be like me jumping against a kid in the fifth grade (who's) three feet tall. You're supposed to do that."
(For the record, Jordan is listed as being 6-11 and Knight at 6-3, but let's not get in the way of a good quote. Watson is 6-1.)
Evans did rank it higher than the preseason block and posterizing dunk he had over Ronny Turiaf, though.
"Just because after the play was over Knight was on the ground," Evans said. "That's pretty tough when a guy dunks on you and you fall."
Watson said it would have been a different story "if he'd jumped over him and dunked it."
Watson also picks Evans' play over Jordan's.
"That was impressive," he said. "I'm biased, though."
Jazz big man Derrick Favors was impressed — and, interestingly, commiserated with Knight.
"Oh yeah, I saw it," the 6-10 Favors said. "I mean, it happens to the best of us. Sometimes you just got to know who you're jumping with."
Favors has had some impressive slams of his own, and he admitted he can't wait to do some more dunk damage.
"You get hyped seeing stuff like that," he said.
Favors isn't ready to cast his dunk of the year ballot, though.
"Uh, I don't know yet," he said. "It might be close."
BELL ERA OVER: All season, Tyrone Corbin hasn't spoken about Raja Bell, who was critical of the Jazz coach's communication skills and called him "unprofessional" last spring.
That didn't change much a day after the disgruntled guard was waived by the organization.
"It's over. We're moving on. Relieved? No," Corbin said. "We're moving forward. We've got other things on the plate."
Though it was a constant topic of conversation, Jazz players said the Bell controversy and uncertainty surrounding the guard's future didn't affect them at all. Bell will be paid his full salary of $3.48 million this season despite not playing a game.
6
comments on this story
"Not at all," Jazz captain Mo Williams said. "Trust me, it hasn't been a conversation — not one time throughout the season."
JUMPSHOT JEREMY: Known for his hops and for being the 2012 NBA Dunk Champ, Evans continues to add a mid-range game to his offensive arsenal. He had a couple of jumpers, including a big one in the fourth quarter, while scoring eight points in Monday's 103-90 win over the Pistons.
"I'm always in the gym shooting with the guys, going at it every day," Evans said. "I take it as a competition."
EMAIL: jody@desnews.com
TWITTER: DJJazzyJody