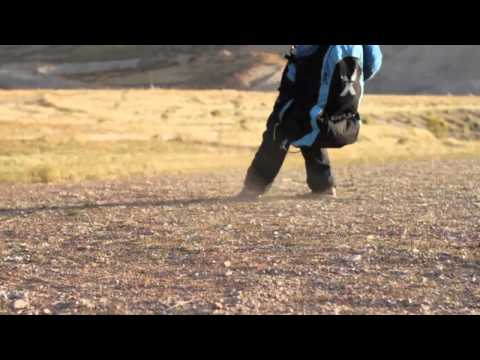 View 14 Items
Michael Boren, YouTube

We're not trying to pick a fight or anything, we're just trying to see what we can do to work with everybody to help save this because this is rare.

—Chris Hunlow
POINT OF THE MOUNTAIN — Paragliders floating in the sky are a common sight at Point of the Mountain, which straddles Utah and Salt Lake counties.
But earlier this week, bulldozers started digging into the slope. Paragliders now fear it will change the wind flow that they believe creates some of the best lift on earth.
Chris Hunlow moved to Utah from California 13 years ago. "This took over my life," Hunlow said of the sport. "I now have a job that allows me to fly as much as I can, and I live right here at Point of the Mountain, so this is my life."
Paraglider pilots say not only does the sport get the adrenaline going, but it allows for a peaceful time with nature.
"As paragliders and as hang gliders here at this site, at no other place in this state can we really live that dream," said paraglider Jeff Ambrose.
Geneva Rock, a supplier of ready mixed concrete, sand and gravel, and asphalt, is expanding its mining operation, excavating a slope of the mountain that paragliders believe is critical to catching the wind and flying up the ridgeline.
"You've got the wind like this and the hill will form and go right up it, and that is where we are catching our lift. Anything that disturbs that is going to change the flow of that wind," paraglider Milly Wallace said.
Several years ago, Geneva Rock traded some of its property so the South Paragliding Park could be built.
"We support what they are doing and have supported it for a lot of years," Jake White, Geneva Rock spokesman, said. But in this case, the company says it has the permits required to excavate sand and gravel.
"We've begun digging and mining on one of the slopes close by here that is within our property boundaries, but we don't have plans to go much farther than that," White said.
Paraglider enthusiasts fear permanent damage is about to be done to the world-class paragliding site. They created the website savethepotm.org to try to save the mountainside.
"We're not trying to pick a fight or anything, we're just trying to see what we can do to work with everybody to help save this because this is rare," Hunlow said.
Geneva Rock met with members of the paragliding club late Friday. Geneva Rock officials said the area they are mining is critical to the company's operations, but they are willing to keep the discussions open with the paragliders.