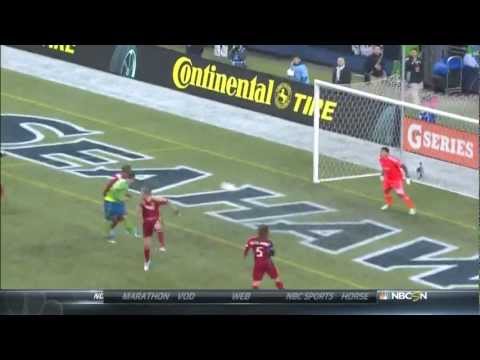 View 3 Items


Nick Rimando has been nominated for two 2013 Utah Governor's State of Sport awards.
Real Salt Lake's starting goalkeeper is one of six up for the pro male athlete of the year award. Additionally, Rimando's performance in the first leg of the 2012 MLS playoffs against Seattle Sounders FC was nominated for the state of Utah's award for 2013 highlight of the year.
In the Nov. 2 match vs. the Sounders, Rimando endured a furious stretch in the first half in which he made three successive split-second reaction saves, deflecting two out of bounds for corner kicks. The match ended in a 0-0 draw.
The other nominees for 2013 male athlete of the year include Super Bowl winners Paul Kruger and Haloti Ngata, Stanley Cup winner Trevor Lewis, PGA tour pro Daniel Summerhays and PRCA Rodeo Champion Jesse Wright. Rimando is the only athlete up for the award that plays for an instate team, though Rimando himself is a native of California.
Comment on this story
Rimando delivered a strong performance during the 2012 season, finishing near the top of the league in goals-against average, wins and shutouts. Rimando also finished fourth in the MLS Goalkeeper of the Year voting, and last Sunday's road shutout vs. the San Jose Earthquakes made Rimando the second MLS goalkeeper ever to notch 100 total shutouts.
The Governor's State of Sport Awards are open to fan balloting. Nine winners in nine different categories will be selected. The winners will be announced in a luncheon to be held April 16, 2013, at the Zions Bank Basketball Center in South Salt Lake City.
Former tennis pro Andre Agassi will deliver a keynote address at the event, and Utah Gov. Gary Herbert will present the awards. The event is open to the public.
Landon Hemsley is the sports content manager for DeseretNews.com. Email: lhemsley@deseretnews.com. Twitter: @EarlOfHemsley