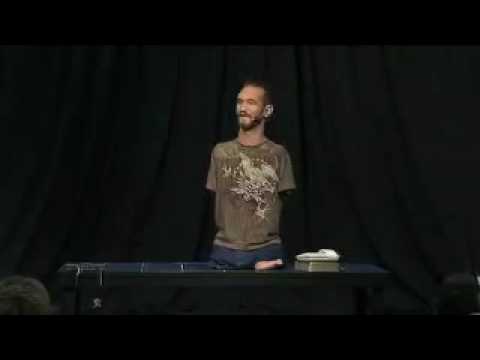 View 12 Items

Some of you think you wouldn't be missed if you weren't here. You're wrong. Some of you think that giving up is an option. I want you to know: Never, ever, ever give up.

—Nick Vujicic
SALT LAKE CITY — Positive, smiling and full of jokes and energy, motivational speaker Nick Vujicic shared his message of hope and love with students Thursday during an assembly at Bryant Middle School.
"It's time to love yourself a little bit more," he said. "It's time you give yourself a chance."
The address was broadcast to schools throughout Utah, reaching potentially thousands of teens in the state. Vujicic, who was born without arms and legs, spoke candidly about bullying, suicide and making a positive difference in the world.
Audience members were asked to close their eyes and raise one hand in the air. Vujicic then asked them three questions, with the instruction they should close their fist to indicate a "yes" answer. 
First, he asked if any students had considered suicide. Several fists closed. One in four, Vujicic said.
Next, how many of those felt driven to suicide because they had been bullied? Three-fourths of the first amount indicated that they had.
Finally, he asked how many had attempted suicide. According to Vujicic's count, 40 closed their fists.
"You don't know what the person sitting next to you is going through," he cautioned students.
Vujicic used this and other examples to illustrate the negative influence bullying can have. He talked about how he was picked on as a child. At 10 years old, Vujicic attempted to take his own life, he said, because he thought he had no hope for the future and had been bullied so much.
However, Vujicic said he thought of his loving parents and realized that he didn't want to put them through that kind of pain.
"Some of you think you wouldn't be missed if you weren't here. You're wrong. Some of you think that giving up is an option. I want you to know: Never, ever, ever give up," he said. "I couldn't see my hope. I couldn't see a bright future when I decided to stay."
Today, Vujicic is happy, independent, married and recently had a son. He golfs, swims and travels worldwide to share his message of hope. 
"I love you," he told the students several times throughout the assembly.
At one point he asked, "Do you believe me?" That question was met with a resounding "Yes!" from a young man in the back of the auditorium.
A few classmates giggled, prompting Vujicic to invite the young man on stage. Seventh-grader Raquan Spencer ran up and hugged Vujicic and told the speaker that his story about overcoming obstacles and loving himself was inspiring.
"I felt really special to be up there with someone who inspires so many people," Raquan said after the assembly. "It means so much in the world to be up there with someone who inspires thousands and thousands of kids."
He said Vujicic's message inspired him to force for good and do his part to put a stop to bullying.
During a question and answer period at the end of the assembly, a student asked Vujicic how he had overcome his challenges.
Vujicic said four things factored into his success: an attitude of gratitude, seeing obstacles as opportunities for growth, a resolve to never give up, and his faith in Jesus Christ.
It was the positive message that resonated with Salt Lake City School District Superintendent McKell Withers. Beyond putting a stop to bullying, Vujicic encouraged students to learn to love themselves and learn to love others.
"It isn't just, 'Stop what's wrong,'" Withers said. "It's, 'Make the world better.'"
After the assembly, Vujicic said he has to turn down many requests for interviews, and he was grateful this speaking engagement was able to be broadcast to students statewide and beyond. He said his main purpose was to help the students learn to love themselves and each other.
Vujicic also spoke at Roy High School for an assembly and gave a separate, faith-based speech Thursday night. He is set to speak at Spanish Fork High School and American Fork Junior High and deliver two faith-based speeches at Utah Valley University and Jordan High School.
E-mail: wevans@deseretnews.com
Twitter: whitevs7