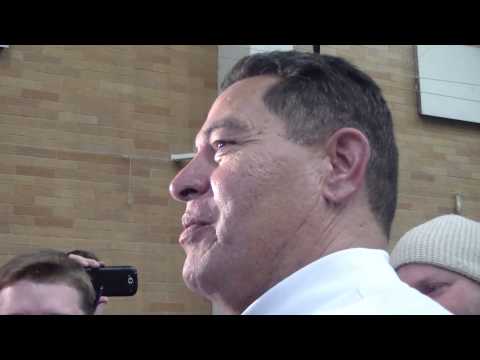 View 28 Items


PROVO — BYU offensive coordinator Robert Anae's self-proclaimed "go-fast-go-hard" offense was on full display Monday.
The Cougars' first practice of spring ball featured offensive players sprinting onto the field for pursuit drills, looking quickly to the sidelines for the plays to run on giant cards — similar to what Oregon does — and numerous position battles, most notably at quarterback.
"First day, I'm glad the guys are running hard. They worked hard today," said Anae, who rejoined coach Bronco Mendenhall's staff in January. "New offense, fast tempo. I'm very proud that they went hard and they went fast."
Said Mendenhall: "It's probably the hardest our collective team has worked since I've been the coach. The demand was really high. It was a typical first day in terms of lack of execution. That tempo, with that demand, with a new system, the offense certainly has a long ways to go in terms of execution, but it's the hardest they've tried since I can remember."
Anae and the rest of the brand new offensive staff are installing a fast-paced, up-tempo offense.
"Instead of having 40 seconds to get a play and execute it, we're trying to get it done in 15 or 20 seconds," first-year quarterbacks coach Jason Beck said. "It's processing all that information as fast as they can go, pushing that tempo. That's the biggest strain the QBs are going to have, processing that information and executing the plays at a fast pace."
During the past month-and-a-half, the Cougars have been conditioning harder than ever in order to maintain the pace required at practice.
"It was the hardest our team has worked, not only offensively, but defensively, trying to keep up with it," Mendenhall said. "The conditioning we did at the end, that's probably going to go away, from what I've seen during practice."
Beck said Anae's offense will look both familiar and unfamiliar.
"Coach Anae's going to do some of the things he did before here — some of the traditional BYU pass game," Beck said. "But he's going to bring other wrinkles. It's going to be a little different. Old BYU stuff and some new stuff."
As for the play cards on the sidelines, Anae said it's not something he is bringing with him from his previous stint at Arizona. In a high-tempo offense, it's all about communication.
"Cards or signals, it's a language. In an up-tempo offense, you have to have language. We're communicating," Anae said. "Our communication is pretty complex. Whether we have cards or not (this fall), the idea is to communicate — fast."
Sophomore quarterback Taysom Hill, who took part in his first practice since suffering a season-ending knee injury last October, was thrilled to be playing again.
"It felt really good. It's been a long time coming since I've been able to throw the ball around," Hill said. "It felt really good to be back in cleats. I'm joking with the guys about the fact it's been so long since I put a helmet on. I was like a little kid out there, running around."
Though doctors have put limitations on Hill during the spring, that didn't prevent him from fully participating in drills.
"He's on restriction, but, boy, they didn't restrict him too much today," Anae said.
"For the most part," Hill said, "I've been able to do everything 100 percent."
Hill's view of the new offense?
"It's fast-paced, quick. It's not quite as complicated as we've been used to, so it's going to allow us to play quick and fast," he said. "It was fun today. When we get used to it, and more familiar with it, it's going to be tough to stop. The challenge right now is making sure as a group that we get the signals and signs, and the quicker we get the plays in, then we can execute that. We need to learn it so it becomes second nature."
The offensive coaching staff, being new, has a "clean slate" approach to evaluating and divvying up reps in practice.
For now, Anae isn't concerned about naming a starting quarterback.
"That's way down the line," he said. "Right now, we're assessing all positions. All positions are open. They're all up for competition. "It's wide-open, it really is."
Hill took the first snaps, followed by senior Jason Munns and sophomore Ammon Olsen.
"Taysom has played, so he got the first reps," Beck said. "Munns is the next most experienced guy, and he went with the second group. We just went from there. We'll let it play out the first five or six practices and let them compete, then slowly give guys more reps based on performance. We'll let things emerge as they go."
Munns, for one, appreciates the fresh start.
"It is refreshing and exciting," said Munns, who was recruited by Anae during the coach's first stint at BYU. "No matter what position you play, you hope for an opportunity to play. I think we'll all get that chance."
The new coaches, led by Anae, displayed plenty of intensity Monday.
"I know his personality pretty well. I know one moment he can be pretty laid back and calm, then flip a switch and be pretty fiery," Munns said of Anae. "But that's what we need. You need that fire and someone who's going to call you out and make sure you're doing your best. I'm excited to have him back."