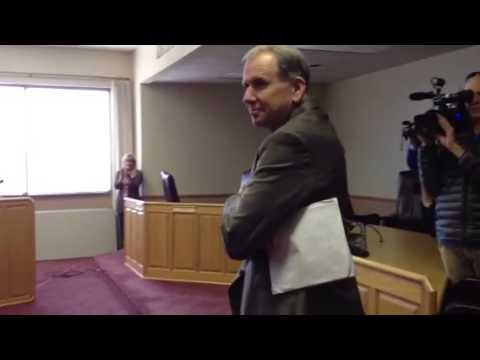 View 20 Items

HIGHLAND — Walking two miles in Monday's frigid wind seemed like a small thing for the Lone Peak students to do for a man they say taught them to be better people.
Nearly 50 Lone Peak students gathered after school ended at 12:25 p.m. and walked two miles from the high school to the Alpine School District offices to deliver a petition and a message to Superintendent Vern Henshaw.
"We hope they see the love we have for him, and give us back our coach," said Caden Humphrey, a sophomore who helped organize the walk and petition effort. "It's been a lot of work trying to get our petition signed. (Coach McGeary) made us aware last Monday in our early weightlifting class. It was heartbreaking. We immediately — it popped into all of our heads — what can we do to get him back?"
McGeary, who owned a 51-12 record over five years, submitted his resignation on Monday, Feb. 25, and then told his players he wouldn't be back next fall. District spokesman Rhonda Bromley said the coach resigned about a week after a meeting with the school's principal, Dr. Chip Koop, in which the coach was told his coaching contract would not be renewed for another year. McGeary still teaches at the school.
That has confused and frustrated those who support McGeary, who see the resignation as something the coach was forced to do.
"My decision to resign is because I did not want to cause any strain or hurt to the Lone Peak football program," McGeary wrote in a statement on Feb. 27. "I have worked tirelessly with my administration to make sure that I was following all policies and have done everything that has been asked. I am appreciative of the support I've received."
While some students immediately sought a meeting with school principal Dr. Chip Koop, others let their frustration and sadness overwhelm them.
Three students were excused from school in the wake of McGeary's resignation — two that received death threats and one who was assaulted.
Bromley said the students who were involved in the physical altercation were punished and school officials are still investigating the threats against the other boys. The boys who were targeted were children of parents who'd participated in a meeting in December after which a complaint was filed with the district alleging violations of state and district policy.
Bromley said all three students have returned to school, and players are finding much more appropriate ways to show support for McGeary.
"What they're doing is certainly appropriate," she said Monday as she waited for the students to arrive at the office in American Fork. "We appreciate the fact that they didn't walk out of class. They waited until school was over, and they're on their way here to let their voices be heard by the superintendent, which is their right to do."
Once the students arrived — majority being members of the football team — they entered the boardroom and Henshaw listened to three representatives talk about why they'd like the district to reinstate McGeary.
Humphrey also handed Henshaw the petition supporting the coach.
Junior quarterback Baron Gajkowski, sophomores Humphrey and Parker Richards all pleaded with Henshaw to reinstate McGeary.
"We felt like we needed to take our petition more public," said Humphrey of why they decided to hold their "peace walk" and invite the media as they delivered the messages to Henshaw. "We wanted everyone to see that everyone loves coach McGeary, especially our team. We need him. We want him back."
Bromley said the district is simply respecting McGeary's decision to resign.
"The bottom line is that coach McGeary did resign his position, and that was following a meeting that he had with the principal of Lone Peak High School, where a decision was made that he would not continue as the football coach. So he did resign voluntarily from that position." The Knight's players said they feel there is too much at stake to do nothing, and they believe their efforts may make a difference.
"I think it will work," said Humphrey. "I hope the district has open hearts, and that they can see we really care for him and we need him back."
Twitter: adonsports
Email: [email protected]