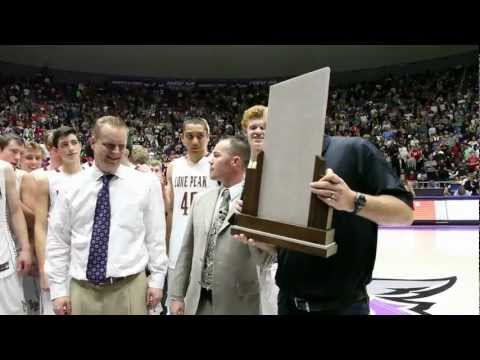 View 29 Items

OGDEN — It's been inevitable since November, but now it's official.
Lone Peak polished off arguably the most impressive season in state history with an emphatic 72-39 victory over the Alta Hawks in the 5A state championship at the Dee Events Center on Saturday.
Lone Peak finished with a 26-1 record and a ridiculous 28.5 points average-margin of victory.
The state title was Lone Peak's third straight and sixth in the past nine years. The Knights will now wait until the rest of the country wraps up the high school basketball season to see if they did enough this week at Weber State to finish the year as MaxPreps's No. 1 team in the country.
When coach Quincy Lewis was asked if he believes Lone Peak is the No. 1 team in the country, he said, "I do."
"I've seen the best, we've played against some of the best. I think we are," said Lewis.
Alta didn't back down from the challenge of facing mighty Lone Peak, and held its own early on trailing only 17-11 after the first quarter.
Trends were developing throughout that first quarter, though, that made it obvious Alta simply couldn't keep up — the Hawks couldn't keep Lone Peak off the offensive glass and their shooting wasn't getting any better.
When you're a massive underdog, that's not a recipe for success.
Deseret News tournament MVP Eric Mika was a monster in the championship game, finishing with 16 points and 18 rebounds. Early on, it was obvious Alta had no answer for the BYU recruit inside. In the first half alone he scored 10 points and added nine rebounds.
Lone Peak stretched its lead to 32-18 by halftime, then pulled away for good by outscoring Alta 28-15 in the third quarter.
"They (Alta) do a great job of running that motion offense, they're very well coached. It took us about a quarter to really lock into what they were doing. Once we did, we were a little better off," said Lewis.
Lone Peak had five players score in double figures, with Talon Shumway and Mika leading the way with 16, followed by 13 for Nick Emery, 11 for T.J. Haws and 10 for Connor Toolson.
Emery played the entire state tournament with a broken thumb on his left hand, but he perservered.
"It was definitely tough, but I just played through it," said Emery.
The senior sat out the entire second quarter in foul trouble, but it really didn't matter once Lone Peak found its rhythm.
"We just kept pushing. We're going to be tough on defense and keep finding the open man, get good looks and that's what we did," said Haws. "We knew if we played our game we have good results, and I thought we came out ready to go for sure."
Lone Peak shot 49 percent and outrebound Alta 38-25.
Alta opened with a match-up zone defense, and while it forced Lone Peak into some tougher shots to start a possession, it wasn't in position to keep Lone Peak off the boards. Of the Knights' 32 points in the first half, 15 were second-chance points.
Lone Peak's defense was just as overwhelming, holding Alta to just 26 percent shooting. The Hawks were decent from 3-point range finishing 8 of 23, but they were 4 of 23 inside the arc thanks in large part to the defensive presence of Mika inside.
After shooting 29 percent in a semifinal win over American Fork on Friday, Alta coach Jim Barker acknowledged that his team needed to shoot better against Lone Peak. It didn't happen. In fact, the Hawks' shooting percent went down all four games at the Dee Events Center — 41 to 37 to 29 to 26.
As the Knights celebrated afterward, more than a dozen cameramen poured onto the floor to capture the moment, but it's something they are now used to.
"That may be the most remarkable thing about our team, we had so much attention and these are high school kids not pros, and they were able to handle it," said Lewis.
5A All-Tournament Team
MVP — Eric Mika, Lone Peak
T.J. Haws, Lone Peak
Trevor Hill, Alta
Ryan Andrus, American Fork
Brandon Miller, Brighton
Talon Shumway, Lone Peak