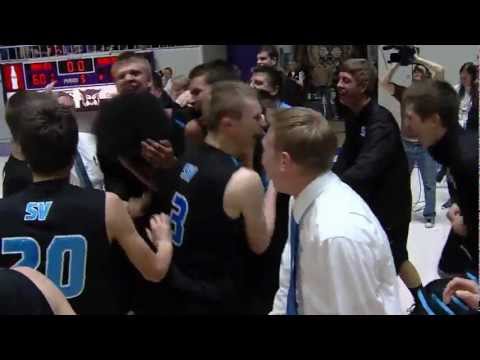 View 9 Items



OGDEN — Most state basketball tournaments include clutch performances — big shots that will be remembered for years to come, but few shots likely will be as memorable as Jalen Moore's in Sky View's 63-60 overtime semifinal win over Bountiful.
At the final buzzer, Moore lofted up a shot from half court that found the bottom of the net, sent the home crowd into a frenzy and, most importantly, sent Sky View to the 4A state championship.
"I can't even describe what this feels like right now," Moore said. "To hit a shot like that — it's just amazing and I'm just so happy for my teammates who worked so hard and for all of our fans. Our fans are amazing and they earned it — we all earned this."
The shot was a culmination of a 9-2 run Sky View put together within the final 22 seconds of overtime. Bountiful took a 58-54 lead on a 3-point play from Sam Merrill at the 45.5 second mark and seemed poised to cruise to victory before Sky View got going.
Braxton Godderidge, who hadn't hit a shot all night, was fouled on an attempted 3-pointer with 22.8 seconds left on the clock. It was a moment of redemption for the junior guard who earlier in the season failed to convert in a similar situation.
The junior calmly sunk all three of his attempts to bring Sky View within one at 58-57.
"I did it for the seniors, and I was not going to let my teammates down again," Godderidge said. "I wasn't nervous at all because I knew I was determined not to let my team down."
"Braxton loves the competition, and he's the sort of kid who wants the last shot no matter how off he's been for the whole night," said Sky View coach Kirk Hillyard. "I'm happy for him because he works so hard, and if anyone deserves a big moment like that, it's him."
Merrill put Bountiful up three on two free throws on the next possession with Sky View getting the ball back with just over 20 seconds remaining. The Bobcats worked the perimeter until finding an open Moore in the corner, who swished through the attempt to tie the game at 60 with 9.7 seconds left.
Moore had been struggling with his shot all night up to that point due to a tenacious defensive effort from the Braves
"I knew they were going to come out and guard me (tough), but I just went with the flow and let the game come to me," Moore said. "Eventually at the end it was just my time. I tried to get to open spaces and fortunately things worked out."
The ball got away from Merrill on the next possession and Bryan Dority pounced on it to set up Moore's epic moment with 2.9 seconds left.
Moore took the inbounds pass, was confronted by two Skyview defenders at half court and had to fad away toward the sidelines to release it.
"I had to fade away so they didn't have a chance to contest the shot," Moore said. "I just threw it up there and it just went in — it was luck. It was an incredible moment, and I'm just happy for my team and the chance we now have to win it all. It's a moment I obviously won't forget."
Moore finished the night with 18 points, nine rebounds and a game-high six assists. Matt Dewey matched Moore's total while doing most of the offensive work early.
"I'm happy for Matt," Hillyard said. "Matt's a great kid and he was amazing — he did some really good things for us tonight."
Bountiful was led by Merrill who finished with a game-high 35 points.
"Sam (Merrill) is an incredible player and he did everything he could for his team," Moore said. "He kept coming at us, but fortunately we got them in the end."
With the win, Sky View advances to the 4A championship and will take on cross-town rival Mountain Crest.
"We want a piece of Mountain Crest," Moore said. "They've been beating us since we were little kids, and we're going to try and get after them, they're going to try and get after us, and I think it's going to be a Sky View (vs.) Mountain Crest game and it's going to be physical."
Twitter: @BrandonCGurney