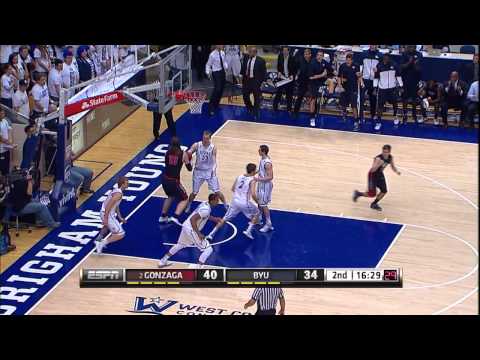 View 30 Items

PROVO — With the No. 2 ranked Gonzaga Bulldogs in town for a Senior Night game, BYU had to play one of the best games of the season. The zone defense frustrated Gonzaga for most of the game, but inconsistent shooting — early in the game, as well as down the stretch — led to the Bulldogs holding on for the win, 70-65.
GUARDS: Tyler Haws was the best guard in the game, scoring 19 points on 44 percent shooting. The rest of the starting guards struggled throughout the game. Craig Cusick and Brock Zylstra kept BYU in the game in the second half, finishing with a combined 55 percent from three-point land. Matt Carlino struggled in his time on the floor, shooting 27 percent for 7 points. Carlino did not see much time during the second half. GRADE: B+
FORWARDS: Brandon Davies earned two quick fouls and spent a few minutes on the bench in the first half. When he returned to the game, he got in a better rhythm and was especially strong in the second half. Despite being on the floor for the majority of the second half with four fouls, Davies made some great plays during the course of the game. He finished with 12 points, 11 rebounds and three assists on 36 percent shooting in his final regular season game at the Marriott Center. GRADE: B
BENCH: Coach Dave Rose used more players than he normally does to compete with the Gonzaga depth, but it had little effect on the game. Anson Winder, Nate Austin and Bronson Kaufusi scored all of the Cougars' bench points (Gonzaga's bench outscored BYU's bench 18-6). Austin and Kaufusi both fouled out of the game late in the second half and the other seldom-used subs barely registered stats in the final box score. Not nearly a good enough performance from the bench in a big game. GRADE: D
OVERALL: The Marriott Center crowd was more than ready for the visiting Bulldogs, and tried to help the home team to a huge upset win. But the emotions of Senior Night had the team playing sluggish in the opening minutes. Davies' two early fouls in the opening minutes didn't help the team to calm down much, and the Cougars found themselves in a small hole early.
Gonzaga pushed the lead to nine in the opening 10 minutes, but BYU fought back and kept the game close. The Bulldogs led wire-to-wire, with BYU's best chance at taking over the game coming with four minutes left as two made free throws from Davies tied the game at 60. Cold shooting in the final minutes of the game doomed the Cougars in the end, but the players put up a hard fight and had a chance to upset the Zags. Moral victories aren't really enough at this point of the season, but the fact that the team was poised and didn't back down against a much better team earned them the final grade. GRADE: B-
Landon Walters is a history and political science major at Salt Lake Community College. He is an avid sports fan and loves writing. Email: mavericksoccer_22@hotmail.com