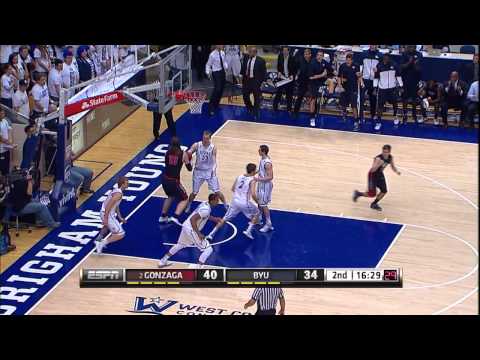 View 31 Items

PROVO — Gonzaga entered the Marriott Center Thursday night as the No. 2 team in the country — the highest ranked team ever to face BYU on this court.
And the Cougars had their chances to pull off one of the biggest upsets in school history, but they fell short.
The Zags escaped with a 70-65 victory over BYU before a sellout crowd.
Gonzaga's Kelly Olynyk scored 19 points, including a clutch jump shot with 42.7 seconds remaining.
The Cougars kept the game relatively close throughout, though they never had the lead.
Back-to-back 3-pointers by Brock Zylstra, followed by another 3-pointer by Craig Cusick — the third one just before the shot clock expired — closed the gap to 60-58 with five minutes remaining.
Moments later, Brandon Davies knocked down a pair of free throws to tie the game at 60-all with 4:18 left.
Elias Harris gave Gonzaga a three-point edge, but a Davies putback at the 2:49 mark made it 63-62 for the Zags.
But in the final two minutes, the Cougars missed seven shots that could have changed the outcome.
Olynyk's basket, and Kevin Pangos' pair of free throws with 23.6 seconds left, made it 67-62. Cusick hit three straight free throws after being fouled on a 3-point attempt with seven ticks left on the clock as BYU cut the deficit to 67-65.
A Harris free throw put the Bulldogs up, 68-65, with 6.6 seconds remaining. Cusick was fouled by Olynyk just before he drained a 3-pointer. Cusick missed the free throw on purpose, and Harris ended up with the rebound. He hit his final two free throws.
That's how close BYU was to pulling off one of the biggest upsets in school history.
With the win, Gonzaga clinched the outright West Coast Conference championship.
And the Zags took a step closer to becoming the nation's top-ranked team after No. 1 Indiana was upset by Minnesota earlier in the week.
Gonzaga improved to 28-2 overall and 15-0 in the WCC. BYU fell to 20-10 and 9-6.
Kevin Pangos missed all six of his 3-point attempts in the first half. As a team, the Zags went 3-of-16 from 3-point territory in the first 20 minutes.
BYU fell behind early after missing eight of its first 10 shots. Davies picked up two fouls in the first 3½ minutes, but his replacement, Bronson Kaufusi, scored the Cougars' first basket on a putback.
Bell hit three 3-pointers, then a free throw that gave the Bulldogs their biggest lead, 23-14.
But the Cougars rallied behind Davies, who returned to the floor and hit a pair of free throws, followed by a dunk. Matt Carlino buried a 3-pointer and Tyler Haws connected on a jumper to pull BYU to within two, 25-23, with 6:41 left in the half.
Trailing 30-25, Carlino scored on back-to-back possessions to make it 30-29 for the Zags.
Gonzaga's Drew Barnham drilled three free throws after being fouled on a 3-point attempt. Haws hit a pair of free throws, then David Stockton hit a pair from the charity stripe as the Bulldogs led at halftime, 35-31.
Haws, who went 0-for-9 from the field in a 20-point loss at Gonzaga, scored 12 in the first half for the Cougars.
Craig Cusick's 3-pointer kept BYU close early in the second half, but the Zags started to pull away as Davies picked up his third and fourth fouls over the first seven minutes of play.
Kaufusi's hard foul on Olynyk — and a stare-down — resulted in an intentional foul on Kaufusi. Olynyk made one of two free throws, then on the Zags' ensuing possession, Kyle Dranginis nailed a 3-pointer to give Gonzaga a 54-43 advantage with a little more than 10 minutes remaining.
BYU closes out the regular season Saturday (9 p.m. MST, ESPNU) at Loyola Marymount.
NOTES: Prior to tipoff, BYU honored its five seniors — Brandon Davies, Brock Zylstra, Craig Cusick, Chris Collinsworth and Stephen Rogers … Former BYU tight end Dennis Pitta, a member of the Super Bowl champion Baltimore Ravens, was honored at halftime … Former BYU guard Austin Ainge, the director of player personnel for the Boston Celtics, was in attendance Thursday.