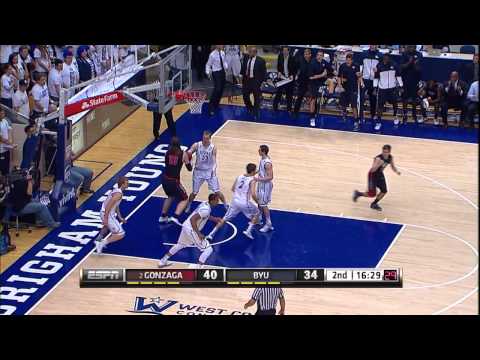 View 3 Items

PROVO — The story of Brandon Davies is one that should be remembered.
Wearing a red-flowered lei around his neck, Davies graciously accepted the loud applause from a packed Marriott Center crowd Thursday night before his last regular-season game in that arena.
He then went out against No. 2 Gonzaga and struggled to escape the swirling foul vortex that siphoned him in on national TV. It's not the way he envisioned how it would go as he prepared all week long. He gutted it out, gave everything he had, but the Zags cancelled it all out.
The No. 2 team in the country beat BYU 70-65.
Things don't always turn out the way you dream.
There's no better example than two faces that took bows with Davies before tipoff, Chris Collinsworth and Stephen Rogers. A trio of men 6-8 or taller.
Two years ago, they all expected to end their BYU careers on the court together making plays and getting the Cougars into the NCAA tournament at the end of their BYU career road.
But Collinsworth and Rogers, victims of knee injuries, never recovered to where they could finish their junior and senior seasons. As BYU faced No. 2 ranked Gonzaga, only Davies suited up for battle. This senior night game was just like the season — a run of unexpected frustrations.
Even Davies, the only man standing for coach Dave Rose, couldn't find immunity from pain carried by this trio. He will ever be tied to a midseason suspension at the height of one of BYU's most storied seasons in 2011 when Jimmermania propelled Cougar basketball to the forefront of the media world.
On the cusp of a possible No. 1 seed in the Big Dance, BYU found itself without Davies.
That misstep, made public nationally, has been used against BYU by recruiters. Said they: "See, if you make a mistake BYU, it will be a very big deal and ruin your life." But the drama also drew high praise in the sports world for a school having fortitude to not look the other way when he admitted breaking the school's Honor Code that prohibits premarital relations.
Humiliated, humbled, hurt and embarrassed, Davies never quit. He made it back and every year he added a different element to his game. He took his medicine in the public eye and refused to let it define him on and off the court. In essence, he defined himself, interpreted his own silhouette.
Collinsworth has known Davies most of his life. Davies has been in his home, ate at his dinner table, had his parents treat him like one of their kids. He's had a front-row seat to the Davies saga from A to Z.
"I love him like a brother. I've watched him since he's been in the ninth grade and he's turned out to be a great player. He's a good guy and it's been nice to see him grow in college, increase his game and have a great career," said Collinsworth. "He's matured as a person and I think he's only going to get better as he goes along.
On a night that was his to shine, Davies earned his second personal foul only two minutes and 33 seconds after tipoff. He subsequently sat out the next seven minutes. He made only one of his first seven shots of the game, a baseline reverse dunk.
Collinsworth said Davies has been a pleasure to watch over the years, even if his personal perch has been a frustrating seat apart from the team.
What will stand out to this friend about Davies, a black Mormon from Provo High School?
"Just his maturity," said Collinsworth. "Obviously he's had some things that helped accelerate that process but he's been able to handle everything, take responsibility for everything and grow and mature as a man and it's awesome to see that."
The Zags eked past the mistake-prone Cougars Thursday night before a loud, packed crowd.
But for Davies, the loss was representative of a season of very rare three home losses.
But it should not define him as a player or man.
Dick Harmon, Deseret News sports columnist, can be found on Twitter as Harmonwrites and can be contacted at dharmon@desnews.com.