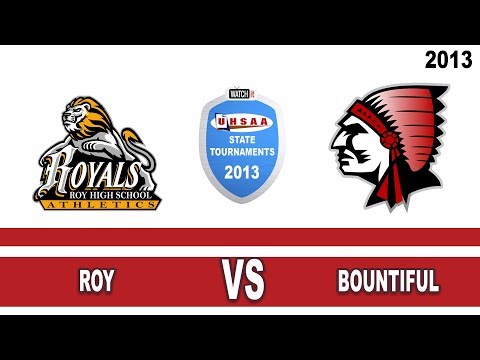 View 4 Items

OGDEN — Bountiful's 19-game winning streak was in jeopardy with 2:22 left in the fourth.
The Braves had just overcame their first deficit against Roy and notched things at 42-42. They knew what they had to do.
Let Sam Merrill go to work.
The Utah State commit had been relatively quiet, but the look in his eyes was unmistakable — a killer instinct reminiscent of all the great closers. Merrill, slightly adjacent to the center of the key, waited patiently for big man Nate Pollard to set a screen on the perimeter. As Pollard planted his feet, Merrill iced his defender with a left-to-right crossover before he sunk a free-throw-extended jumper.
The bucket propelled the Braves, who outscored the Royals 10-2 over the final 3:47, to a 50-44 win in the boys' 4A quarterfinals Thursday at the Dee Events Center.
"I'd just been going off screens all night and I figured I couldn't really get to the rim because Brekkott (Chapman) is so long," Merrill, who finished with 13 points, six rebounds and six assists, said. "He gave me that shot and I was able to step up and hit it."
Bountiful (21-3) will face Sky View in the semifinals Friday at 7:30 p.m.
Roy's Chapman entered as the fourth-leading scorer in 4A, averaging 19.7 points per game and 8.7 rebounds.
But, Bountiful's coach Mike Maxwell knew that Chapman was uncomfortable with physicality and planned to use that to his advantage. If Chapman was on the floor, either Pare LeSueur or Mosese Manu was bodying him up. Deadball or not, the Braves were going to bother him more than a fly on a hot summer night.
"(LeSueur and Chapman) play on a summer league team and they know each other and he was so excited when I told him he was going to man-up on him," Maxwell said. "(Chapman) is one of the top five scorers in the state — one of the best players in the state — but that familiarity helped.
"We knew what to do about him and how to play him," Maxwell continued. "We took advantage of what we knew, but the guys did it. That's the thing — they stepped up and did it."
The relentless pressure frustrated Chapman into two points on 0-of-3 shooting. His lone points came with .01 seconds left in the third quarter in the bonus situation after he was fouled on a defensive rebound.
"We knew that he didn't really like contact," Bountiful's Zach Seljaas said. "So, we put the more physical guys (on him) to see how they'd go against him."
Roy needed its role players to step up. Luckily, Jesse Wayment, David Hadley and Jaden Jackson had proven time and time again that they're up to the challenge.
Wayment scored a team-high 16 points and Hadley added 13 points and eight rebounds. Jackson chipped in nine points and five rebounds.
"Their other guys stepped up pretty big," Maxwell said. "I didn't think they could shoot like that, and I was hoping they couldn't, but frankly it's the tournament and you better step up if you're a player and they did. They're terrific players."
The Braves maintained a 28-23 edge at the break after Seljaas — as he had done in the first quarter — buried a 3-pointer as time expired. Seljaas scored 12 of the last 16 points to end the half and finished with a game-high 18 points.
"That sophomore doesn't know the big stage yet — he just goes and plays," Maxwell said of Seljaas. "He's going to be terrific and he's still growing. He's only 15 — he's not driving yet. He won't drive to August or September, so he's just a kid."
Roy (17-7) continued to take the fight to the rim throughout the third quarter, methodically wilding away Bountiful's narrow advantage.
5
comments on this story
With 7:11 in the fourth quarter, Roy finally pulled even when Wayment swished a wingside 3-pointer. The following possession, after Seljaas' connected on a short runner, Daimon Alexander once again tied things at 40-40.
Then, with 5:04 — after holding Bountiful to four points in nearly nine minutes — Roy tasted its first lead when Jackson rattled a 17-foot jumper.
"Just not panic and run our stuff — stay together and get stops," Maxwell explained when asked what was said during a timeout following the shot.
And with Merrill, frothing at the mouth for an opportunity to deliver a dagger.
"Three or four minutes to go," Maxwell said, "there was plenty of time."
Email: tphibbs@desnews.com Twitter: @tphibbsami