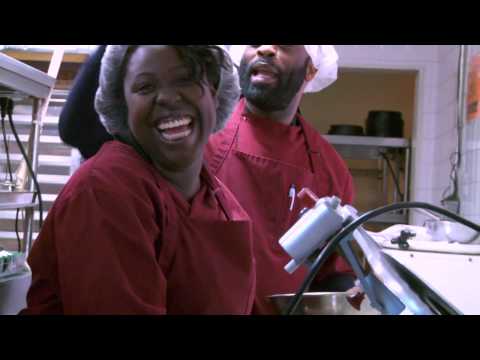 View 2 Items
Strongforall

New York City restaurant workers sing and dance to the tune of "Money" in a new video aimed at increasing the minimum wage and bringing attention to this sector of the workforce.
Strong Economy for All, a collaboration of New York City unions that says it fights for workers' equality and rights, was behind the video. Phrases like "Demand Action from Albany Now!" flash across the screen in hopes of sparking action from policymakers during the month of March. The video features the original version of the Motown song "Money" by Barrett Strong.
"We wanted to put the focus back on the workers and help lawmakers understand who we're fighting for," said Michael Kink, executive director of the Strong Economy for All Coalition. "We've been beating them (policymakers) over the head with statistics so it's nice to have a great beat and a fantastic song to go along with that."
The video has already garnered more than 1,000 views and has been featured in The New York Times, among other media outlets, he said.
"It's having the kind of impact that we want it to," he said. "Our goal was to make an argument in a different way that a lot of different kinds of people can connect to."
Sixty percent of restaurant workers make poverty wages and those that receive tips make a base salary of $5 per hour, according to Restaurant Opportunities Center United, which advocates better wages and working conditions for the restaurant workforce. That can equate to as little as $10,000 per year for full-time employees.
"The idea that you can live on 10 grand in New York City is crazy," Kink said.
Food industry workers can get their tips robbed and are among the lowest paid workers, he said. He also cited fast-food companies, some of which bring in billions of dollars annually, as a concern because they continue to pay their employees minimum wage.
The minimum wage in New York is currently $7.25 but these workers are asking for it to be raised to $9.
"We've been working nine years now without a wage hike from Albany, and in this economy, many of us are really struggling," said Brenda McLean, a restaurant worker and a member of ROC-NY, in a press release. "Raising the minimum hourly wage to $9 and making sure it goes up as the cost of living goes up would go a long way toward lifting many of us out of poverty. Not all of us work in $30-plate restaurants and bring home $400 a night in tips. Most of us are just getting by."
NYC restaurant workers dance for a wage hike
A music video advocating an increase to New York City minimum wage was released today and features restaurant workers, 60 percent of whom make poverty wages, singing and dancing to Barrett Strong's classic "Money"