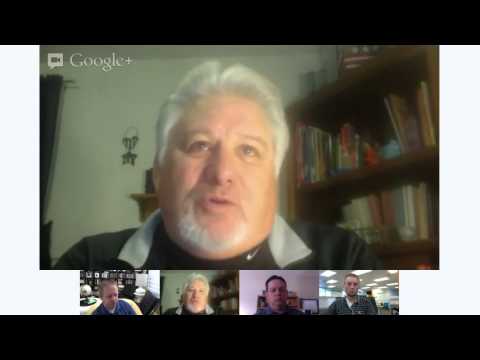 View 5 Items

DeseretNews.com, Utah's home for in-depth coverage of BYU athletics, held a live #DNHuddleUp video chat with Dick Harmon, Brandon Gurney and Jeff Call Thursday, Feb. 28, at 10 a.m. for roughly 30 minutes.
BYU fans and Deseret News readers had the opportunity to direct the topics of discussion in Thursday morning's #DNHuddleUp chat on this page. Among the topics discussed in Thursday's chat were the BYU offensive line, BYU spring football and the impending matchup with no. 2 Gonzaga.
DeseretNews.com will hold another live chat event Monday, March 4, 2013 at 10 a.m. Fans of BYU who would like to participate and submit questions for consideration in the live chat event can send their questions via Twitter by tweeting the hashtag #DNHuddleUp with their questions.
Alternatively, fans can email questions to DeseretNews.com sports content manager Landon Hemsley at lhemsley@desnews.com.
Harmon is a columnist for the Deseret News with a focus on BYU and collegiate athletics. He previously worked for 26 years as executive sports editor, sports columnist, city editor and police reporter for the Provo Daily Herald. He has appeared numerous times on ESPN and other broadcasting programs nationwide and has written three books, co-authoring a fourth. His work has appeared in The Sporting News and other national publications. Harmon and his wife, AnnaLee, have four children and reside in Orem, Utah.
Jeff Call has been a sports writer for the Deseret News since 1997. He is the BYU beat writer and has been covering Cougar sports since 1993, beginning as sports editor at the Daily Universe. Call has written several books, including "Mormonville," "Rolling With the Tide" and "Cougarmania." He and his wife, CherRon, have six sons and live in Cedar Hills.
Brandon Gurney covers recruiting, high school sports and BYU athletics for the Deseret News. Previously, he worked for Scout.com for eight years, covering BYU with an emphasis on recruit coverage. He joined the Deseret News full-time in the summer of 2011.
Landon Hemsley is the sports content manager for DeseretNews.com. Email: lhemsley@deseretnews.com. Twitter: @EarlOfHemsley