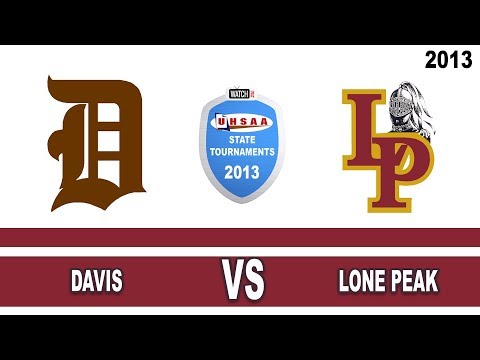 View 2 Items

Blog: Zach Frampton contributes off the bench while biding his time
OGDEN — Lone Peak's Talon Shumway is someone who shies away from the limelight and certainly doesn't like to draw attention to himself. But the 6-foot-3 forward had everyone's attention during his team's 83-50 win over Davis in the quarterfinals of the 5A state tournament Wednesday.
While more notable Lone Peak players like Nick Emery were struggling with their shots, Shumway was untroubled. The two-sport star connected on his first four 3-point attempts and finished with a game-high 25 points. It was a career high for Shumway, but likely isn't something he'll pound his chest about or even care much about.
"Just whatever it takes to help the team win. That's all I care about," said Shumway following the game. "My goal isn't to score a lot of points. We have bigger goals and it's all about getting to play Saturday night for a state championship and winning that game."
The Dee Events Center in Ogden seemingly brings out the best in Shumway. A couple of years ago he earned tournament MVP honors as a sophomore — scoring 19 points in Lone Peak's championship win over American Fork.
Wednesday against Davis he took center stage again — and his teammates just kept feeding him the ball.
"Talon was definitely feeling it tonight," said TJ Haws. "When he's feeling it like that we're just that much better and it really helps when Nick is a bit off or if I'm a bit off. He doesn't force things and he makes it so we don't have to force things. He's obviously a great player and a big part of this team."
Shumway also finished with a game-high four steals and ultimately converted on 6 of 8 3-point attempts.
Eric Mika contributed 19 points and 10 rebounds with Haws adding 17 points and four assists. Emery had a relatively quiet night with nine points on just 2-10 shooting from the field, but did finish with a team-high five assists.
"Nick didn't shoot well tonight, but he led our team in defensive rebounding and assists," said Lone Peak coach Quincy Lewis. "Nick just understands that when the defense is focusing on him — and they were sucking down hard on him when he drove — but he just kept kicking it out to open guys and it worked out well for us."
Davis was led by sophomore Jesse Wade, who scored a team-high 13 points while helping limit Emery on the defensive end.
Lone Peak has received a ton of national attention this season and it has only intensified during the Knights' stretch run of the 5A playoffs. NBC's "Today Show" had its crew at Wednesday's game, among every local media outlet imaginable.
"We're just trying to tune out all the attention and focus on the game," Haws said. "It's a little hard, but once we're out on that floor we're just playing for each other and trying to win a state championship."
With the win Lone Peak advances to the semifinals where it will take on Brighton in a rematch of last year's 5A state finals.
Email: [email protected]
Twitter: @BrandonCGurney