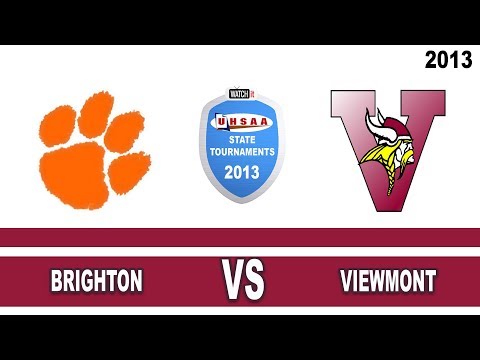 View 16 Items

Blog: Consistent Miller leads Brighton to victory
OGDEN — After getting drilled by Lone Peak in last year's 5A title game, and then again early this year, Brighton's boys basketball team has longed for another shot at the No. 1 team in the country.
By taking care of business in Wednesday's quarterfinals and not looking past underdog Viewmont, the Bengals now get that opportunity.
Brighton jumped out to a big early lead against Viewmont at the Dee Events Center and withstood a late push from the Vikings to hold on for the 69-58 victory.
The Bengals can now turn their attention to No. 1 Lone Peak, and their semifinal clash this Friday at 4:10 p.m.
"I'm sure we're more eager than anybody else in the state," said Ute commit Brandon Miller, who was outstanding for the Bengals with 26 points on 9-of-14 shooting.
Region 3 champion Brighton got great contributions from two other seniors as well, with Travis Devashrayee adding 12 points and 10 rebounds and Zach Bernardo chipping in with 11 points and four assists.
"I thought the whole team really shared the ball and played well together," said Brighton coach Jeff Gardner.
Brighton was dialed in from the opening tip, jumping out to a 8-2 lead and then extending it to 23-11 by the end of the quarter. Twelve of those 23 points came on layups as the Bengals made a concerted effort to attack the basket.
That trend continued all game as Brighton scored 34 points in the paint, finishing an impressive 59 percent from the field.
As well as Brighton was playing, Viewmont was still very much in the game after a 12-5 run to close the third quarter trimmed the Bengal lead to 45-39.
Michael Steinicke had five points during the stretch, while Jarom Tye added four.
The momentum was short-lived, with Brighton opening the fourth on a 6-0 run and stretching the lead to 17 at one point in the fourth quarter.
"Our big thing was to continue to play good basketball. Defensively they did a really good job of getting to the rim and putting pressure on us defensively, and that was one of the things we talked about was stopping back cuts and making them make perimeter shots," said Gardner. "Our kids did a really good job offensively of getting in the paint and creating some easy baskets, which helped us on the defensive end as well."
Six of Miller's nine baskets were on driving layups, including an acrobatic scoop layup in the third quarter. After he finished 6 of 17 from the field in the first-round, including 1 of 8 from 3-point range, Miller's willingness to attack the basket and not settle for 3-pointers was huge.
For Brighton, now it's all about doing the impossible.
"When we played them early in the season they jumped on us real good in the first quarter, but after that we got our bearings together and we got our heads and we played them tough the rest of the game," said Miller.