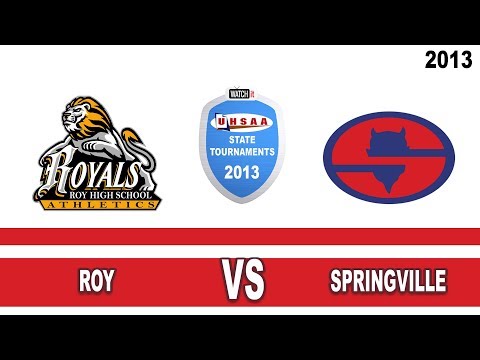 View 2 Items

OGDEN — When Roy lost to Logan by 26 points on Feb. 13, coach Dan McClure didn't dwell on the loss too much with his players, chalking it up to bad luck. Games like that are bound to happen over a 22-game season.
When Roy lost by 37 points to Sky View a week later in the regular-season finale, McClure knew he couldn't ignore the magnitude of the pulverizing defeat.
Fortunately for him, his players also recognized the reason they'd devolved from a Region 5 contender to mediocrity in a span of two weeks.
"We were a little bit on a high horse after already clinching a playoff spot, and everyone saying we're a good team. Once we lost that game it brought us back down to our level," said Roy big man Brekkott Chapman.
That level is pretty darn good, something Springville discovered firsthand at the Dee Events Center on Tuesday.
Trailing by two at the half, Roy was fantastic in the second half — particularly defensively — as it steamrolled the Red Devils 59-46 to clinch the 4A first round victory.
Roy held Springville to just 22 percent shooting, including an abysmal 17 percent in the second half. During what proved to be the decisive stretch of the second half, Springville went 7:23 without scoring.
During that span, Roy stretched a 28-27 lead to 42-27.
The presence of the 6-foot-8 Chapman inside had a lot to do with those struggles as he finished with seven blocks.
"I enjoy playing defense. It's probably my favorite part of the game. Serge Ibaka, he's my idol. He's one of my favorite players in the NBA and I want to be like him," said Chapman, who added 16 points and 11 rebounds. "Defense first always. Defense creates offense."
McClure believed that getting off to a quick start was critical too against a quality Springville team.
In that loss to Logan, his team trailed 17-12 after the first quarter. It was even worse against Sky View, as the Royals fell behind 23-7 after eight minutes.
Not knowing exactly how Springville would come out defensively, McClure scripted three plays against four different defenses in practice this week and had his team simulate each scenario out of a jump ball.
He's not sure if it made a difference, but Roy scored on its first three possessions to take a 6-0 lead. Springville eventually tied the game at 11-11 by the end of the quarter, but the tone had been set — the Royals weren't going to get crushed.
Roy did struggle to finish off the game from the free-throw line, ending up a dismal 22 of 38, but it was a minor hiccup in an otherwise strong performance as Roy won its first playoff game since advancing to the 4A semifinals in 2007.
Jesse Wayment added 14 points for the Royals, while David Hadley chipped in with 13.
Bradley Kitchen led Springville with 14 points and 10 rebounds in the loss.