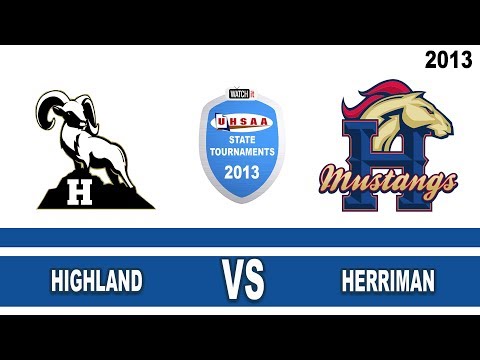 View 2 Items

We told them last year numerous times that they were building Herriman basketball — that it was there's to build.

—Coach Brad Tingey
OGDEN — With just 4.3 seconds left on the clock and his team's playoff game tied, Herriman's Z Arima did exactly what he wasn't supposed to do — what coaches and teammates had yelled at him for doing throughout the season. They're likely not yelling at him this time, however.
Following a shot by teammate Tueni Lupeamanu to tie the game at 42-42, Arima didn't get back on defense — preferring to go for the big steal and the win in regulation.
It paid off this time — in a big way.
The senior guard intercepted the inbounds pass and drew a shooting foul to give his team a chance to win it in regulation. He calmly sunk both free throws and Herriman was able to pull off an improbable comeback victory when Highland's Henry Morris had his desperation 3-point attempt glance off the back rim.
Herriman escaped with a 44-42 victory Tuesday and will go on to the 4A quarterfinals.
"It's what I've been doing all season and I usually get my butt chewed out for it, but I guess it worked out this time," Arima said about his steal.
It was the type of moment the young guard had been preparing for since he could first pick up a basketball as a young child.
"It's something I've been doing on my driveway since I was like 4," Arima said about the play. "It was cool. It was a dream come true."
Arima's heroics wouldn't have come to fruition without an improbable comeback effort by the Mustangs that took a complete team effort. The Rams led by double-digits throughout most of the game until Herriman made its run.
Down 34-23 with just three minutes left in the third quarter, the Mustangs closed out the period with an 8-0 run to trail just 34-31 heading into the fourth. Highland maintained a slight lead throughout the final period until Lupeamanu hit a free-throw-line jumper to tie the game up with just five seconds remaining.
"I tell ourselves every game that if we just play for each other that things will happen for ourselves and that's what happened," Lupeamanu said about his game-tying shot. "Coach called a great play. I was confident in the shot — made it — and then Z stole the ball to win the game."
It was the type of game-closing effort Herriman has become accustomed to in just its third year since being founded. It's not the easiest and certainly not the prettiest way to win games, but it's how the Mustangs have found success.
"We have been that way in games the entire season. We call it grinding," said coach Brad Tingey. "We just grind and we grind, then we have those quick windows when everything clicks and ... that's just the way it's been for us."
Another tradition the Mustangs are building is making improbable comebacks during the first round of the state playoffs. Last year, it was Logan that fell victim to Herriman's late charge after "grinding it out" for the better part of 32 minutes. On that occasion, Jaden Rasmussen's last-second basket lifted the Mustangs to a 56-55 victory.
Now they've done it two years in a row — exactly the sort of thing that builds tradition.
"We told them last year numerous times that they were building Herriman basketball — that it was there's to build," Tingey said. "We want to keep taking another step forward and keep building it. They're excited about it. They take great pride in it. And they take pride in their school and in each other, so it's just fun to watch."
Herriman was led on the afternoon by David Maynard, who scored a team-high 11 points. Lupeaman added nine with Arima and Alec Johnson each chipping in eight. Highland was led by David Divver and Connelly, who scored 14 and 12 points respectively.
Herriman will face Mountain Crest in Thursday's quarterfinals.
Email: [email protected]
Twitter: @BrandonCGurney