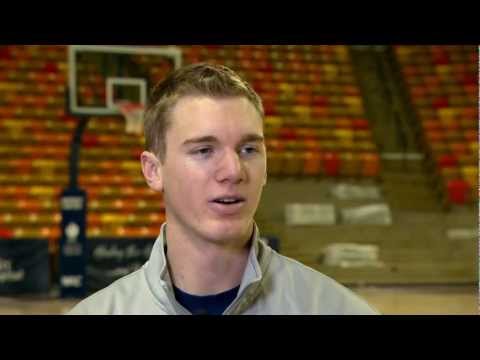 View 2 Items

LOGAN — When Utah State Aggie basketball player Danny Berger collapsed in practice on Dec. 4, 2012, no one was sure if he'd live through the night. Two months later, Berger is on the mend and grateful for the second chance he's been given.
Berger was recently featured in a YouTube video produced by BYUtv. In the video, Berger reminisced on the episode that nearly cost him his life and the actions of athletic trainer Mike Williams that saved it.
In the video, Berger said, "It could have gone either way. I could have not been here, but I am, and I'm grateful for this opportunity to continue with life and to accomplish some things that I've always wanted to — having a family, serving other people and being a force for good in the world."
When asked how his near-death experience has changed his life, Berger said he is now much more humble.
"This is just a reminder — a really strong reminder — that I'm never going to forget," he said. "It's been humbling. I've been more dependent on God, and it's just a reminder to do the right things and to treat people with respect."
Berger also said he is now much less afraid of death.
"I have faith in what happens after, and you know, it happens to everyone eventually. Just preparing myself for what's to come is important and just being ready for that time whenever it comes. Not being scared of that is a good way to live."
2
comments on this story
Berger, a member of The Church of Jesus Christ of Latter-day Saints, transferred to Utah State University to join its basketball program at the beginning of the 2011-2012 season and soon became a starter.
During the time he spent playing before his December accident, Berger was averaging just more than eight points and four rebounds in roughly 20 minutes of playing time per game.
Following the accident, Berger quickly healed and attended the following home Aggie basketball game in Logan, an 86-57 win over Division II Western Oregon.
Landon Hemsley is the sports content manager for DeseretNews.com. Email: lhemsley@deseretnews.com. Twitter: @EarlOfHemsley