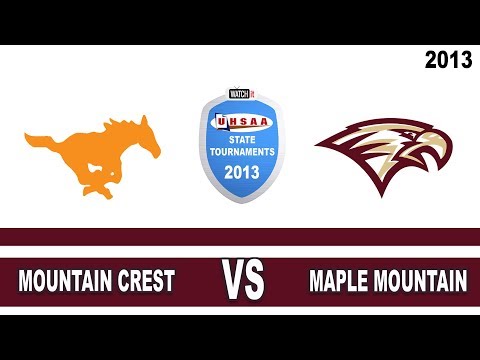 View 3 Items

OGDEN — Mountain Crest's Eddy Hall, Tyler Crosbie and Faimafili Laulu-Pututau have accumulated nearly 200 combined starts since entering the lineup as sophomores in 2010.
In that time, the Mustangs have been ousted in first rounds and the quarterfinals. But, for the trio, returning to the state championship has always felt within reach.
"It's very motivating. When we were freshmen, me and Tyler dressed and we were on the bench when we lost in the state championship," Hall said. "Through the years we've been together, and we're gonna stick together til the end."
The Mustangs (16-5) took the first step in their journey toward a championship in a deceivingly dominant, 57-40, win over Maple Mountain (13-10) Tuesday in the first round of the boys 4A state tournament at the Dee Events Center.
"The first round of the tournament anything goes. We saw that in (Logan's upset over Orem) before," Mountain Crest coach Graydon Buchmiller said. "Teams are going to bring their best and you got to be ready. It's four quarters of basketball and I was proud (we) came for four quarters and played some basketball."
Mountain Crest will face Herriman in the quarterfinals at 2:30 p.m. on Thursday.
The Mustangs consciously oiled their offense through their 6-foot-5, athletic forward, Laulu-Pututau — who's committed to play football at BYU next season — whose size was a nightmarish match-up for the undersized Eagles.
"There's going to be a lot of situations where we feel Mo has some good match-ups," said Buchmiller, whose team won the battle in the paint, 32-14. "We talked about that with him early and he took advantage of a couple of those. We're definitely a lot deeper than Mo getting the ball inside. That's what we needed to get this afternoon."
Laulu-Pututau's presence was felt immediately following an opening two-handed flush on a fast break. He scored eight of MC's first 10 points and finished with a game-high 21 points and seven rebounds.
"It got momentum going on our side," Pututau said of the dunk. "We've had struggles starting games off strong, too."
Maple Mountain, however, was able to stick around at the free-throw line — hitting 8-of-10 in the first half and 21-of-27 overall. At the break, the Eagles trailed by only seven, 24-17, despite shooting 4-of-16 from the field.
Overall, the Mustangs frustrated the Eagles into 9-of-41 shooting and 1-of-15 from beyond the arc.
"It's our demeanor in practice," Hall said. "That's what we base our team off of is defense. Today our defense was incredible."
On the opening possession of the third quarter, Crosbie slipped his defender on a corner screen and knocked down a deep wing 3-pointer. The basket ignited a 15-4 run that essentially put the game out of reach.
"We were able to get some deflections and steals and send us running," Buchmiller said. "Anytime you can get easy baskets that way it takes a lot of pressure off your offense."
The Mustangs' lead bloomed to as many as 24 points in the second half.
Email: tphibbs@desnews.com Twitter: @tphibbsami