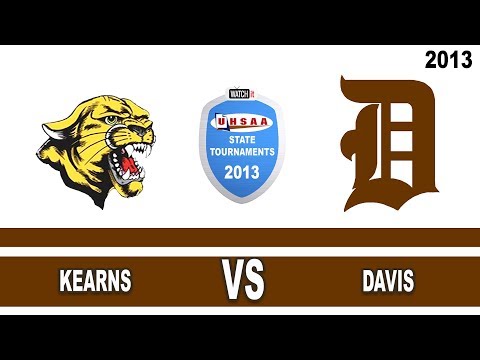 View 2 Items


Blog: Super sophomore Jesse Wade settles into tournament play
OGDEN — Davis took care of a tough and athletic Kearns team in the first round of the 5A state playoffs Monday, winning 56-43. The Darts led from start to finish and maintained a comfortable cushion throughout the second half.
Senior forward Braden Koelliker led the way with a team-high 17 points. Chance Parker and Abel Porter chipped in 12 and 10 points, respectively.
Davis was aided by superior frontcourt play and playoff experience — both good playoff experience and bad playoff experience.
"We've been here before and we've been a No. 1 seed a couple of times and been knocked out in the first round, so we know it's always tough in the first round," said coach Jay Welk. "We got the job done and that's what we needed to do."
The Darts stormed out to an early 11-4 lead before the Cougars came back to trail just 14-11 at the end of the first quarter. The second quarter remained tight, but Davis was able to score the final five points to lead 28-20 at the break.
It's as close as Kearns would get.
Davis scored the first six points of the second half to establish a double-digit margin. It then cruised to victory.
"I think once we just settled down that we were fine," Koelliker said. "Kearns played tough and they're really athletic, but we just focused on playing like we know we can and it worked out."
Kearns was led by center Dayon Goodman, who is one of the most athletic players in the state. He gave Davis all it could handle. The 6-foot-8 forward led Kearns with a game-high 21 points, but a lot of those points came in the second half after Davis had seized complete control.
Davis was well-stocked to deal with Goodman, posing three experienced and athletic post players of its own — starting with the 6-foot-7 Koelliker.
"(Goodman) is a great player, but we just focused on us and we went hard at him," Koelliker said. "It's great for us because they can't just focus on us. They have to focus on our entire team. If one guy is off we have another guy to step up and it compensates for off games."
Comment on this story
"To have that (frontcourt size) is a big luxury," Welk added. "We haven't had that luxury since I've been here and they're fairly athletic, which helps."
With its first-round game under its belt, Davis looks forward to a second-round matchup against defending 5A champion and overwhelming favorite Lone Peak.
"We don't have the star power that other teams in the state have. ... We understand that (Lone Peak) is one of the best teams in the history of the state and we'll find out a lot about ourselves on Wednesday," Welk said.
Email: bgurney@desnews.com
Twitter: @BrandonCGurney