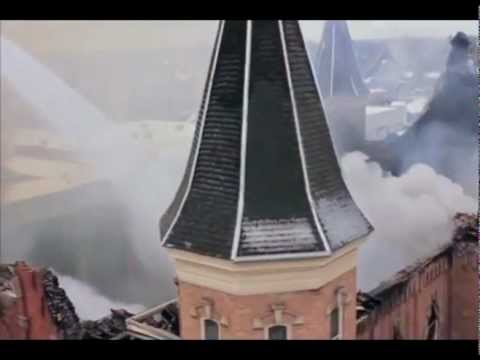 View 27 Items
BrazoFuerteProd

There is definitely increased enthusiasm for downtown with this announcement. A lot of interest has been piqued from developers and retail outlets wanting to be associated with the temple.

—Nathan Murray, Provo City Economic Development Office
PROVO — The bricks are still scarred from fire two years ago, but the Provo Tabernacle is on track to become the LDS Church's second temple in Provo.
From a distance, the Provo Tabernacle appears to stand as it has stood since the late 1800s. But upon closer inspection it floats above the ground, held in place by a network of steel supports.
"It was unbelievable," Donnette Perkins said after seeing the construction project. "I wouldn't want to be standing under it like those guys are, but it looks like it is pretty solid."
Since The Church of Jesus Christ of Latter-day Saints held a groundbreaking for the new temple on May 12, 2012, crews have reinforced the interior walls of the tabernacle with rebar and concrete. Now the site is being excavated for what will become a basement in the new temple.
"What they have done so far looks pretty amazing," said Provo resident Jeff Nemelka. "I can't wait to see the final product."
Nemelka works near the temple site and watches the construction's progress every day.
"It seems like all the dirt was there, and they must have gone in there and put the metal stilts in there beforehand and then removed the dirt with the stilts in place," he said.
The Provo Tabernacle was severely damaged Dec. 17, 2010, when a lighting technician mistakenly set a 300-watt light fixture on a wooden speaker box in the attic, Provo fire investigators concluded. The blaze caused an estimated $15 million in damage.
The progress on the temple is also a catalyst for Provo's downtown.
"There is definitely increased enthusiasm for downtown with this announcement. A lot of interest has been piqued from developers and retail outlets wanting to be associated with the temple," said Nathan Murray with the Provo City Economic Development Office.
The restoration of this landmark is attracting a lot of people who want to see history in the making as the pioneer-era tabernacle is transformed into what Latter-day Saints believe is a "house of the Lord."
"We were just talking about how much more expensive it probably is to do a restoration like this, but it seems really worth it to preserve a building that is so important to Provo's history," Perkins said.
The existing Provo Temple is located approximately two miles northeast of the new temple, close to the church's Missionary Training Center and the Brigham Young University campus. It is generally considered to be one of the most heavily used temples in the church. The new temple, along with another temple currently under construction in Payson, will relieve some of the operational pressure on the 40-year-old Provo Temple.
The project is expected to be finished sometime in 2015. That's when the Provo City Center Temple will be formally dedicated.
Contributing: Viviane Vo-Duc
E-mail: [email protected]