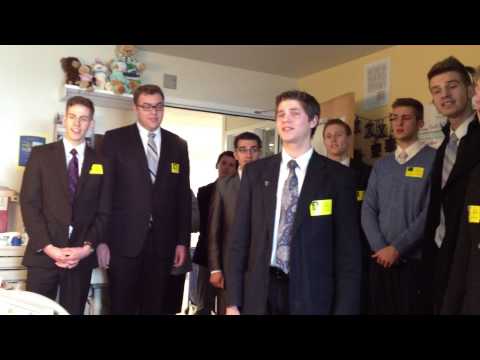 View 7 Items

When Suzanne Poulsen received a call from her daughter's elementary school informing her Ashtyn was sick, she knew something was seriously wrong.
Ashtyn had been sick with flu symptoms for about a week-and-a-half and had spent most of her time in bed, missing several days of school.
Poulsen doesn't take her children to see the doctor very often, and Ashtyn thinks going to the doctor is scary; however, both of them agreed that a doctor needed to be seen.
The Poulsen's drove to the local Insta-Care where results from Ashtyn's blood work showed a low white blood cell count.
After grabbing a few personal items from home, they made their way to Primary Children's Hospital where they soon received news that changed their lives: Ashtyn was suffering from Leukemia.
It took four long days for the oncologists to diagnose Ashtyn with a specific type of leukemia. There are two kinds: acute lymphoblastic leukemia (ALL) and acute myeloid leukemia (AML).
The CT scan revealed Ashtyn was suffering from minimally differentiated myeloid Leukemia, which affects between 2 and 3 percent of all AML cases.
Although Ashtyn didn't have regular AML, the doctor's determined they'd treat her as if she did, which meant 10 days of chemotherapy and 20 days of recovery.
As a 12-year-old, Ashtyn had plans to finish sixth grade. She had plans to enjoy her friends, Justin Bieber music and upcoming family vacations; chemotherapy was not part of her plans, and she was scared.
In the midst of these dark days, family members and friends gathered together as supporters and a Facebook page called Ashtyn's Army was created. Poulsen, a member of The Church of Jesus Christ of Latter-day Saints, often posts on the page and requests specific prayers to be said for Ashtyn.
Encouraging thoughts are published every day on the page. The posts say things like "I pray for you every single night" and "You have an entire army behind you." Even complete strangers have joined the group and continue to pray for Ashtyn.
"Every time I've asked people to pray for something specific on her Facebook page, it comes about," Poulsen said. "Physically, everything she's asked, she is blessed with. Even if the pain doesn't go away, she is at least able to tolerate it."
Ashtyn's biggest supporters are her parents and her siblings.
Although it's difficult to have a positive attitude, her family continues to have faith that everything will work out.
Her 13-year-old brother Chandler and 10-year-old sister Morgan find comfort by praying and reading their scriptures daily. Six-year-old Ethan isn't quite old enough to fully understand the situation, but he really misses having his sister and mom at home with him.
"I'm really proud of the positive way my kids have handled this huge change in their lives," Poulsen said. "I'm grateful for the outpouring of help that has been received on their behalf. People bring meals, clean my house, drive them (the siblings) to their activities and get them out of the house to have fun."
Poulsen is constantly with Ashtyn, living her life alongside her daughter.
"When she's really sick, I just do what she does," Poulsen said. "When she's throwing up, I'm holding her hair. When she's coughing up mucus, I'm handing her Kleenex, and if she's sleeping, I'm rubbing her feet with lotion."
On Jan. 30, the day Ashtyn was diagnosed with Leukemia, Poulsen wrote the first post on her blog Ashtyn's Triumph.
Poulsen writes a detailed post almost daily on Ashtyn's progress to keep friends and family informed.
Ashtyn wrote a personal piece on her mom's blog called "In Her Own Words." In the post, she describes what she's gone through and shares the negative and positive aspects of her experience as a cancer patient.
"Ever since she wrote that blog post, she has not once been negative," Poulsen said. "She stays positive by not dwelling on it. The other day I was telling her I was sad she was losing her hair, and I asked if she was sad or mad. She started to nod her head, but then quickly shook it and said 'I cannot think like that.'"
The Poulsen's have noticed several blessings since Ashtyn was diagnosed.
One blessing occurred Feb. 10, when Vocal Point, a nine-man a capella singing group from Brigham Young University, came to sing at the church service held at the hospital.
During the vocalists rendition of "I Need Thee Every Hour," Poulsen thought, "Ashtyn has got to hear this."
Although the nurses are strict about letting more than a few people at a time at Ashtyn's bedside, the singers visited Ashtyn after the church service and sang to her.
"Those men had sung those songs over and over again, yet they were on the verge of crying," Poulsen said. "There is always an incredible spirit in Ashtyn's room. It's like the temple. If you leave your outside cares outside and come in, there's a calm feeling in there."
Every day, no matter how sick Ashtyn is, she feels supported by God and angels.
"Every day we literally feel the prayers from people," Poulsen said. "I know for a fact every prayer helps her. It doesn't matter what religion you are, if it's a prayer or just positive vibes from Buddha, that's how she is going to pull through."
Megan Marsden is an intern with the Deseret News writing for the Faith & Family section. She is currently a junior at BYU-Idaho studying communication. The views of the writer do not reflect the views of BYU-Idaho.