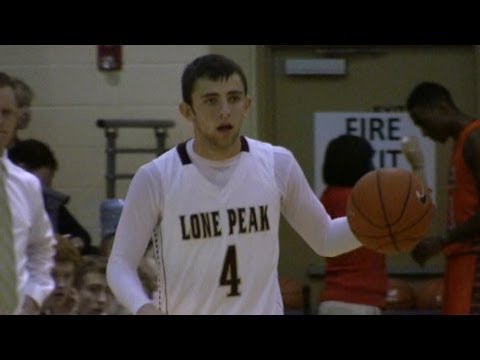 View 4 Items
After a whirlwind of elite-team tournaments, ESPN exposure and YouTube clips, the Lone Peak boys basketball team is zeroing in on a third consecutive Utah state championship.
Should they three-peat on the state level, the Knights are in a position to snag the title of "national champions" in the same breath.
Lone Peak (22-1) is currently ranked No. 1 in the country, a spot they've held for four consecutive weeks. With just the state tournament remaining, ESPN Top 100 and BYU recruits Nick Emery, Eric Mika and T.J. Haws, along with sharp-shooter Conner Toolson and BYU football commit Talon Shumway, are poised to give Lone Peak's program a national championship.
Knights head coach Quincy Lewis admitted such an achievement was discussed before the season, when possibilities and hype had time to grow. With the state tournament tipping off on Monday, however, Lewis says the team's focus has narrowed a local setting.
"At the beginning of the year, [winning a national title] was something we talked about as a team," Lewis said. "But really at this point, we're just concerned about what our first couple games might look like in the same tournament. That really is the truth."
The Knights' approach is in direct contrast to a state-wide fan base thirsting for the next big thing, whether it's another Emery shooting barrage, a Mika dunk or a Haws ankle-breaker. BYU fans in particular are anxious to see the trio don Cougar blue, though Emery is already slated to serve his two-year LDS mission in Germany and Haws doesn't graduate until 2014.
Before that happens, however, the next big thing may well be a national championship on the high school level, a possibility Lewis credits to everyone involved in the process.
"It's a culmination of a lot of things," Lewis said. "I think when you have some success, it's because players have worked. Parents have sacrificed. Support of the administration has been huge."
Consequently, national awareness of Lone Peak's team has grown, making the Knights something of a local celebrity group. The team hasn't minded the attention. After winning the 3-point contest during the City of Palms Classic, Emery tweeted a picture of himself standing next to renowned college basketball commentator Dick Vitale.
Lewis, however, says the team appreciates the opportunity to step away from the national spotlight in order to finish its in-state goals.
"The last two or three weeks, we still have different things to work on," Lewis said. "It's been nice to focus on what we need to do here in the state."
In-state focus notwithstanding, the Knights may sweep the biggest out-of-state honor in the process.
NOTE: The original version of this article stated Lone Peak could become the first Utah national champion in any sport. That was incorrect, and has since been corrected. We apologize for the error and to the sports programs it encompassed.
Matt Petersen is the Sports Web Editor for DeseretNews.com. You can follow him on Twitter at @TheMattPetersen.