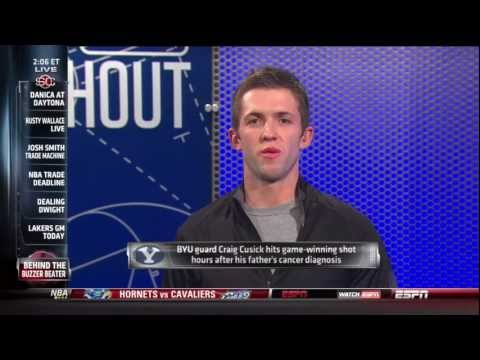 View 2 Items

PROVO — When BYU senior guard Craig Cusick scored the game-winning shot just before the buzzer against Utah State on Tuesday night at the Marriott Center, it was an emotional, memorable ending for him and his teammates, who mobbed Cusick on the court in celebration.
But at that moment, few realized the personal turmoil Cusick had been dealing with that day.
Earlier Tuesday, Cusick learned that his father, Randy, had been diagnosed with cancer.
Randy Cusick collapsed Sunday and was rushed to the hospital. Doctors discovered a cancerous tumor, and the news that Randy had cancer was confirmed to Craig Cusick only hours before Tuesday's tipoff.
During the postgame press conference, Cusick answered numerous questions about his last-second shot. But he did not mention his dad's condition because he wasn't sure his family wanted to make it public.
But news of the diagnosis spread quickly. BYU officials told reporters about Randy Cusick's situation late Tuesday night.
Craig Cusick, a senior walk-on from Orem, granted an interview with ESPN's SportsCenter Wednesday afternoon.
"Part of it's a dream come true, but part of it is, we've been through highs and lows of emotions the past couple of days with my family and my friends," Cusick told ESPN. "To end the night like that for me, and especially for my dad, was just incredible. It was a dream come true."
After shootaround Tuesday, Cusick returned to the hospital, along with the rest of his family, to be by his father's side.
"My dad wouldn't miss a game for anything, except for this, obviously," Cusick said to ESPN. "My dad was in my thoughts and in my prayers throughout the game. He gave me some encouragement before I went out there."
Up until his game-winner, the heavy-hearted Cusick was 0-for-6 from the floor. He admitted it was tough coping with the emotions he was experiencing.
"It was really difficult," Cusick said in the interview. "My dad coached me growing up. He's my hero."
Randy Cusick watched the game on television from his hospital room. Around midnight, his son arrived to see him. He found his dad teary-eyed, and Craig's tears flowed as well.
"My dad is just incredible. I told him and he looked into my eyes and he said he was going to be fine and that he was going to be able to fight through this," Craig said to ESPN. "We appreciate all the prayers and thoughts and support from the fans. We believe my dad will get through it."
Right now, Randy is waiting to see a specialist at the Huntsman Cancer Institute in Salt Lake City, according to Craig.
"Unfortunately, my dad's cancer is in an area of the small intestine that is extremely complicated and difficult for the surgery to be performed," he said. "There are very few doctors that perform the surgery."
The BYU-Utah State game, originally scheduled for early December, was postponed due to a medical emergency involving Aggie forward Danny Berger, who collapsed and stopped breathing during a practice the day before the game.
Berger was transported to a hospital and was treated for a problem with his heart. Berger sat on the bench in street clothes during Tuesday's contest.
Meanwhile, Craig Cusick said he feels for all of those who are fighting cancer, or that know someone who is.
"My thoughts and prayers go out to every single person who has a loved one or friend that's battling cancer," Cusick said. "I'm praying for everyone who is dealing with a similar thing."
Craig Cusicks coach, Dave Rose, battled cancer in 2009. Rose was diagnosed with pancreatic neuroendocrine tumor cancer, and since undergoing emergency surgery to remove the tumor, he has been cancer-free.