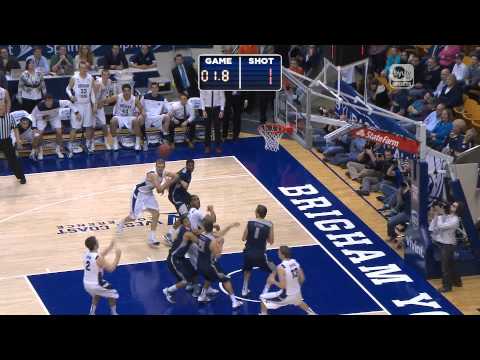 View 26 Items

PROVO — BYU and Utah State waited more than two months to play this game Tuesday, and at times, the game itself seemed to last more than two months.
Officials whistled 51 fouls and sent players to the free-throw line 60 times. One Aggie, Jarred Shaw, fouled out and four other USU players finished with four fouls. Three Cougars were called with four fouls apiece.
In the end, BYU edged USU, 70-68, after guard Craig Cusick hit a game-winning shot with two-tenths of a second remaining.
But for much of the contest, it was a foul-fest. Cougar coach Dave Rose said that's what happens in in-state rivalry games.
"If you ask the players who played the game, they would tell you that it was really physical, and there probably could have been more fouls called," Rose said. "I think that is attributed to the fact that it's an emotional game. That's kind of the beauty of these in-state games — guys are really excited to play them. There's a lot of emotion."
The physical nature of the game certainly disrupted the flow of the contest.
"We love to run up and down the court," Cusick said. "Any game when there are a lot of fouls like that, it slows the tempo down a little bit. It was one of those games, especially with an in-state rivalry, a lot of times it comes down to who can grit it out and who has the last shot. Fortunately, we were on the better end of that tonight."
BYU guard Tyler Haws called the game "a wrestling match down there on the boards."
THE SERIES: BYU now leads the all-time series with Utah State, 137-92. The Cougars have won four of the last six games against the Aggies.
NOTES: BYU football player Kyle Van Noy was one of numerous Cougar athletes honored at halftime. Van Noy was presented the Defensive Performer of the Year trophy by Brad Smith of College Football Performance Awards. … BYU finished 3-0 this season against in-state opponents, having previously beaten Utah and Weber State.