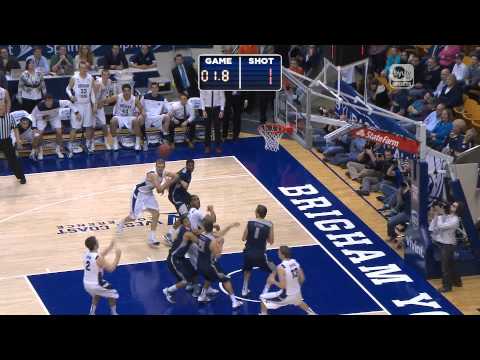 View 27 Items

PROVO — BYU's Craig Cusick made just one shot Tuesday night against Utah State at the Marriott Center.
But it couldn't have been any bigger.
With the final seconds ticking down, and the game tied at 68-all, Cougar guard Matt Carlino let fly a 3-pointer that bounced off the front of the rim.
But Cusick, who had rushed toward the basket, caught the ball in midair and scored a 12-footer with two-tenths of a second remaining to propel BYU to a dramatic 70-68 victory over the Aggies Tuesday night before a crowd of 16,569.
"As a player, you couldn't dream it any better," said Cusick. "I was just fortunate. … I saw that when Matt shot it there was a chance it would be a little bit short. I ran to where I thought it was going to come off and I was fortunate."
It capped a bittersweet, ultra-emotional day for Cusick. Just hours earlier, he learned that his dad, Randy, had been diagnosed with cancer.
"This has been the best one of my life by far," Cusick said of his last-second heroics. "It meant a lot for me. I couldn't be happier that I was able to be a part of this with my team."
That game-winner was Cusick's only field goal of the night, as he had missed his previous six attempts from the floor.
"It's great that I made the shot, but I give all the credit in the world to my teammates during the game," Cusick said. "I made one shot the whole game."
"It was a huge basket for him," said BYU coach Dave Rose. "I'm really excited and happy for him. It's a big win for our team."
BYU improved to 20-8 overall while Utah State dropped to 18-7.
But it wasn't the only big offensive rebound the Cougars had in the final minute.
After USU's Spencer Butterfield hit a pair of free throws to tie the game at 68 with 57.1 seconds remaining, BYU had the ball with a chance to re-take the lead.
Then Brandon Davies missed a hook shot with 35 seconds left, and Tyler Haws, who scored a game-high 27 points, grabbed the rebound to maintain possession for the Cougars. BYU called time out with 37.1 seconds on the clock to draw up a final play.
"I went in looking to make a play and got the rebound," Haws said. "We just wanted to win the game. We fight for 40 minutes to the very end."
Rose called that rebound "one of the biggest plays of the game," as it set up Cusick's buzzer-beating putback.
The play Rose set up was for Carlino to dribble down the clock, then penetrate. Rose was hoping Carlino could either drive to the rim, or kick the ball to an open shooter. But neither of those were options due to the Aggies' suffocating defense, so he tried to win it with a long jump shot.
Fortunately for the Cougars, Cusick was in the right place at the right time to gather in the rebound and score.
"Craig's got ice in his veins. Things don't get to him very easily," said Haws. "That's the type of person he is. He's calm in those situations and he's ready to make a big shot."
The emotional in-state game between BYU and USU featured 51 fouls and a combined 60 trips to the free-throw line.
The Cougars had an 11-point lead early in the second half, only to watch the Aggies whittle that deficit to two points — 64-62 — with just under four minutes remaining.
"They're a very physical team. We knew that coming in," Haws said. "They battled their way back into it. We didn't play that well in the second half. We've been in that situation before and been on the losing end. It feels really good to come out on top."
"They did a great job of changing defenses and disrupting our rhythm," Rose said of USU. "We really pushed the pace in the first half. In the second half, the game got more into a half-court game. We had a lot of open shots we didn't hit. When you can win a game and shoot 35 percent from the field, you know your team has competed. They battled and fought through adversity. This game didn't flow at all with a lot of fouls and free-throw stoppage."
Davies, who had been struggling from the free-throw line of late, hit four consecutive free throws in the final three minutes to allow the Cougars to stay ahead.
"He was 6 for 6 from the line," Rose said. "We needed all of them."
BYU returns to West Coast Conference play Thursday (9 p.m. MST, ESPN2) when it visits Saint Mary's.