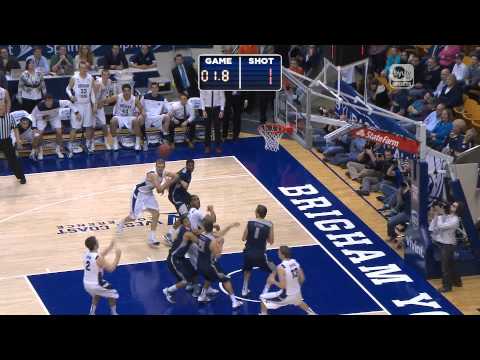 View 26 Items

PROVO — If you were inside the Marriott Center on Tuesday night and left with a ringing in your ears from all of the whistles, you weren't alone. The frequency of the sound left many on both sides holding their ears afterward.
A whopping 51 combined team fouls were called during BYU's showdown against Utah State, turning a rivalry game more into a combined MMA and free-throw shooting competition.
In a game where the margin was razor thin, the Cougars' ability to shoot from the free-throw line and diffuse fouls among their bench players proved to be the difference in a 70-68 win over USU.
Utah State head coach Stew Morrill, left with only eight healthy bodies, opted to use just a seven-man rotation. With 27 fouls called against the Aggies that meant nearly everyone ended the game in foul trouble.
Marcel Davis, Ben Clifford, Spencer Butterfield and TeNale Roland all finished with four fouls and center Jarred Shaw fouled out. BYU had 24 fouls of its own, but was able to diffuse the fouls among 10 different players. As a result the Cougars had just three players with four fouls and none of them fouled out.
"We were in full scramble mode with so many guys in foul trouble," Morrill said. "I thought we might have to play our walk-on who hasn't checked in yet. ... I didn't know if we were going to have a point guard left."
Morrill said afterward he had no problem with the officiating, but the sheer amount of fouls changed the way the Aggies played. USU was forced to play a lot more zone in the second half to deal with foul problems. The players in foul trouble had to regulate their aggressiveness to avoid picking up another whistle that would end their nights.
"It was definitely a challenge," Butterfield said of playing with foul trouble. "We had to play smart. We had to back off a little bit and not be as aggressive. I know for me personally I was trying not to pick up that fourth and fifth foul. I backed off a little bit. I wish I didn't have to, but that's the way it is."
In a game that was a virtual parade to the free-throw line, the Aggies were done for the second time in three games by poor foul shooting. Utah State finished 17 of 27 (63 percent) from the charity stripe, while BYU, led by Tyler Haws going 12-14, shot 28-33 (85 percent).
"One of those games with a couple plays here and there it would have been a different outcome. If we made some free throws it sure would have helped," Morrill said. "We turned the ball over way too much and missed free throws. That's why we got beat."
Kraig is a 2010 Utah State University graduate and regular Deseret News sports blogger. He can be followed on Twitter at DesNewsKraig.