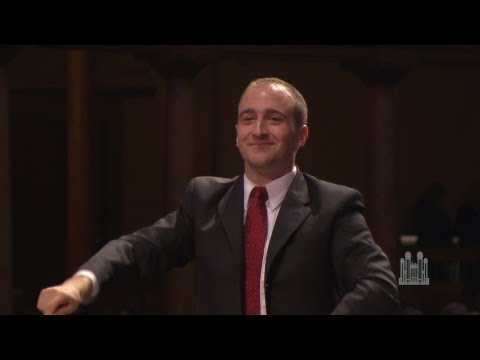 View 8 Items

There are videos in Justin Lewis' family from when he was about 2 years old at outdoor concerts and he would pick up a stick and pretend it was a flute or a conductor's baton.
Since then, he's learned to play the cello — including working on a doctoral degree in cello performance at the Catholic University of America in Washington, D.C. — and has a master's degree in orchestral conducting at Penn State University. He's also the associate conductor of the United State Air Force Heritage of America Band.
Lewis, now 30, was the winner of the "Conduct the Choir Video Facebook Contest," and claimed his prize of conducting the Mormon Tabernacle Choir last weekend.
"It was a dream," Lewis said. "My first thought was that 'this isn't real.' There was a moment there where I thought to myself, 'is this really happening?'"
On Sunday, Feb. 17, he directed the Mormon Tabernacle Choir and Orchestra at Temple Square performing Beethoven's "Hallelujah Chorus" immediately after the "Music and the Spoken Word" broadcast.
"That wall of powerful sound is so lush and so fun to listen to," Lewis said.
"I'm impressed with how responsive they all are. Everything that I would have them do, they would immediately make an adjustment based on a movement of the hand or a different place that I'm pointing my hand."
Lewis studied the musical score and listened to other performances of the song, including one by the Mormon Tabernacle Choir.
He wanted to make sure he had the tempo for 360 voices and 110 orchestra members just right.
"If you take it too fast, it's hard to get words out quickly, and I didn't want them to sound like mumbling Mormons," Lewis said. "But at the same time, if you take it too slow, it can be a little boring."
He also took into consideration the music speeding up at the end and the way music carries through the Tabernacle.
"I might have driven the strings a little nuts because they have a lot of really fast notes, but they did a really good job," the father of two said. "I'm really happy with the tempo that we finally got."
Lewis, who served a Spanish-speaking mission in the Tucson Arizona Mission, was on Facebook when the "Conduct the Choir Video Facebook Contest" caught his eye.
He and his wife had just bought a new video camera to capture moments with their two children and decided to put together a video.
He had the music on a player in his pocket and they went to a variety of places around Washington, D.C. — including a grove of trees, next to a fountain and next to a battleship — and his wife, Jennifer, who is a violist in the U.S. Army Band and a former member of the Orchestra on Temple Square, filmed him conducting Beethoven's "Ode to Joy."
"I would feel so silly," he said. Passers-by would give them funny looks, and when they were filming in an empty lot near the battleship, a security guard very slowly drove past them and gave them an odd look.
"I felt very ridiculous," he added with a smile.
They uploaded the video and entered the contest for fun. And then, to their surprise, people voted for him. "And then it got interesting," he said of the 8,600 or so votes.
In all, more than 18,000 votes were cast, and Lewis' video came up the winner.
He had joined the U.S. Air Force and left for basic officer training after the contest ended but before the winner was announced. He was in the middle of the first week of the intense training when he got an email proclaiming him the winner.
"The news couldn't have come at a better time," Lewis said. "It really brightened my day."
Jennifer and their two boys, who are 1 and 2, flew in from their home in the Springfield Ward, Annandale Virginia Stake, for the Valentine's Day rehearsal and Sunday's performance.
"They (the choir and orchestra) have a power to transcend language and deliver a message in a way that is unassuming," Lewis said. "In that sense, they are a great missionary tool."
And his mother was also able to come, too, and it was the choir that helped with her joining The Church of Jesus Christ of Latter-day Saints in the late 1970s.
When she was young, her family would listen to "Music and the Spoken Word" after her father would come home from attending their community church services, Lewis said.
"When she heard the music, she knew that it was good," he said.
Later, when her friends introduced her to the missionaries and she began to meet with them, "she was not afraid to listen to the message of the missionaries because she knew what they would have to share would be good because the music the choir shared was good," Lewis said.
He shared that experience with the choir, too.
"They're influencing people in ways and in times that they have no idea," he said.
Justin Lewis conducts 'Ode to Joy'
Justin Lewis won the Mormon Tabernacle Choir's "Conduct the Choir Video Facebook Contest" and on Feb. 17, claimed his prize. This is his audition video that received about 8,600 votes during the contest.