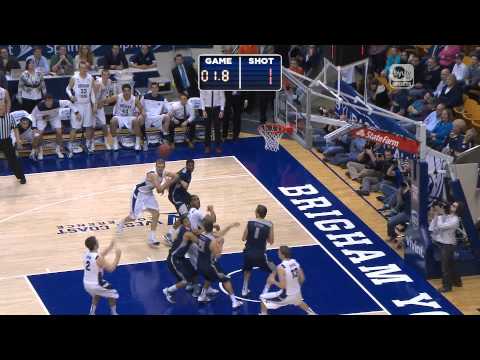 View 8 Items

BYU coach Dave Rose is among the best coaches in the West, and is a strong candidate for greatest BYU head coach of all time. His winning percentage of .774 is leaps and bounds better than any of his predecessors. His 185 wins in seven seasons as a head coach is fourth-best all-time in the NCAA. Since he took the helm, he has guided BYU to six consecutive 25-win seasons and six consecutive trips to the NCAA tournament, both BYU records.
His teams have routinely dominated every college program in the state of Utah save one. Since he began coaching, Rose's Cougars have won 11 of 14 games against the Utes, most recently a 61-58 nailbiter in Provo that saw a double-digit Utah lead evaporate down the stretch.
Against Weber State, Rose is undefeated posting a cool 8-0 record. Most of the victories have come by double digits, whether the game was played in Provo or the Ogden. The closest Weber has ever come to edging out BYU was a 73-69 overtime win in the Purple Palace.
Rose's Cougars have only played Southern Utah twice, soundly defeating the Thunderbirds in 2005 and in 2006.
However, against Utah State, Rose is only .500. He has won three gams and lost three games against coach Stew Morrill's Aggies.
BYU and its sports fans generally don't consider Utah State to be a rival, particularly in football. Other than the 2010 walloping USU gave BYU in Logan, the Aggies have only defeated the Cougars on the gridiron only one other time in the last 20 years.
Basketball, however is a different story. This in-state matchup has been the definition of rivalry during the last 15 years, especially during Rose's tenure.
Morrill is among the most respected coaches in college basketball in his own right. His winning percentage as a Division 1 coach is .744, and he has won more games for the Aggies than any other coach in school history. Coming into the 2012-13 season, Morrill and the Aggies have won 21 or more games in every season and have appeared in a postseason tournament for 13 straight years.
Over the last 14 basketball meetings between the Cougars and the Aggies, BYU and USU both have seven wins. Seven of the meetings have occured in Logan, six in Provo and one at Energy Solutions Arena. Both teams have lost one home game during this stretch (USU in 1999, BYU in 2004) but won all other home games, and BYU came away with the win in Salt Lake City in 2008.
The average margin of victory for BYU against the Aggies since 1999 has been 6.7 points. Conversely, when the Aggies have won, their average margin of victory has been 10.4 points per game. The average spread over the course of the series since '99 is 8.4 points per game.
Sounds a little different than the USU-BYU football series, right?
When these two in-state basketball juggernauts collide tonight in Provo, it won't be simply a matchup of two teams that have been recently down on their luck, but a meeting of the two premier programs in the state of Utah since the year 2000.