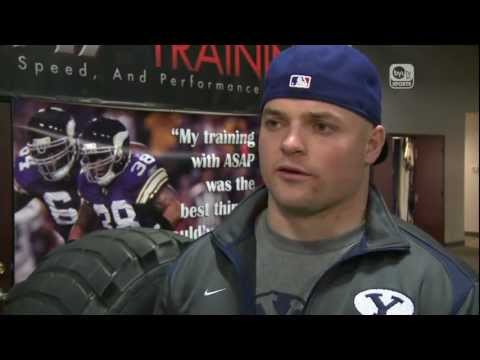 Nine NFL hopefuls are training hard to make an impression on NFL scouts at BYU's pro day on March 28.
Only Cougar teammates Ziggy Ansah and Braden Brown were invited to the NFL combine in Indianapolis next week, leaving BYU's pro day as the only opportunity for some players to get evaluated.
"Right now that's going to be the biggest day of their lives as far as their career goes, and we want to get them ready for it," David Stroshine of ASAP Training, who is working with some of the players, said in an interview with BYUtv.
Right now Ansah is projected to be a mid first round pick, although BYUtv analyst Skylar Hardman believes he could go as high as ninth overall.
Punter Riley Stepheson is also likely to sign with an NFL team, although it is unlikely that he will be drafted as teams rarely use draft picks on kickers.
Other BYU players who are expected to work out on pro day are Romney Fuga, Preston Hadley, Braden Hansen, Reed Hornung, Uona Kaveinga and Brandon Ogletree.
Ryan Carreon is a web editor for DeseretNews.com. E-mail him at [email protected]