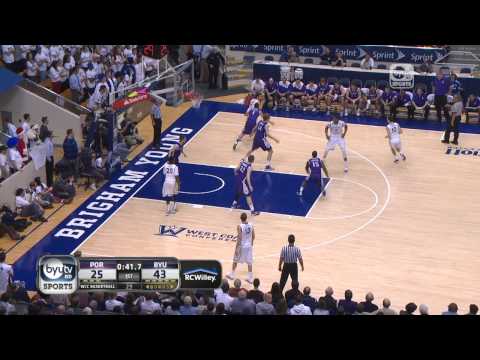 View 40 Items

We ended up with 26 assists on 34 baskets. That's good for us. That's how we play. We move the ball.

—BYU coach Dave Rose
PROVO — Of all the numbers on the stat sheet Saturday night, the ones that probably made BYU coach Dave Rose the happiest were his team's 26 assists on 34 made field goals.
Tyler Haws scored 28 points, Brandon Davies added 23, and two other Cougar starters also scored in double figures in an 86-72 victory over Portland before a crowd of 17,009 at the Marriott Center.
With the win, BYU snapped a two-game losing streak. The Cougars improved to 19-8 overall and 9-4 in the West Coast Conference. The Pilots fell to 10-18 and 3-10.
"I'm pleased with the way we shared the ball," Rose said. "The emphasis over the last week was to compete together as a group on both ends of the floor. … We ended up with 26 assists on 34 baskets. That's good for us. That's how we play. We move the ball. We share the ball and get a lot of guys involved offensively."
Both Craig Cusick and Matt Carlino dished out seven assists apiece, and Davies had five.
The performance was emblematic of the two basketball legends that BYU honored Saturday — Mel Hutchins and Roland Minson, who guided the Cougars to the 1951 NIT championship.
The jerseys of Hutchins and Minson were retired at halftime, and now hang from the rafters of the Marriott Center. When BYU approached Hutchins about retiring his number, he said he didn't want it retired without Minson receiving the same honor.
The two former players addressed the current Cougars in the locker room.
"Our guys were impressed that they went up together, the point guard and the post guy," Rose said. "That's something we really try to talk about here is our team, not only our team for the short time we're together, but how that team becomes part of your life forever and your teammates become great friends.
"They could see a real-life example right there."
BYU, which hadn't played since a demoralizing loss at home last Saturday to San Francisco, turned in an impressive first-half effort against the Pilots.
An 18-4 run midway through the first half gave the fresh-legged Cougars a commanding 31-13 lead. Over the first 20 minutes, BYU shot 60 percent and outrebounded Portland, 23-10. The Cougars led at halftime, 46-25.
"We come out every night with the same mindset, that we're going to play on attack and try to be aggressive," Haws said. "We were all able to get into a rhythm tonight and knock down shots."
Haws knocked down 13 of 19 shots from the floor and Davies connected on 8 of 12.
Cusick, who made his first start since the Baylor game on Dec. 21, scored 10 points, and Carlino also chipped in 10. Brock Zylstra added nine points.
The Cougars collapsed last week against San Francisco, squandering a double-digit lead and giving up 60 second-half points. One point of emphasis during the week was defense.
"Our defense was really good in the first half," Haws said. "We had some lapses in the second half. But we're focusing on being a better team defensively and not giving up easy baskets. We were able to get a big lead in the first half."
The Cougars were outscored in the second half, 47-40, and allowed Portland to shoot 60 percent in the final 20 minutes.
But BYU was happy to end its losing streak, especially after having to wait an entire week to play again.
"Anyone would tell you that it's a long time," Rose said. "I've never been a college football coach, but it's probably what a college football coach goes through. You get beat on a Saturday, then you don't get to play again until a Saturday."
"It's hard sitting on a loss for a week," Haws said. "But our team's trying to look forward. There's still a ton to play for. We're coming to practice ready to work and get better as a team. I'm happy with the win tonight."
BYU hosts Utah State on Tuesday (7 p.m. MST, BYUtv).