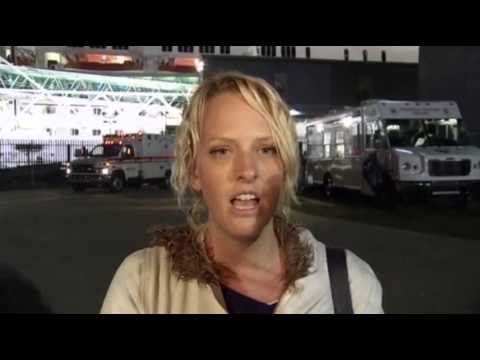 View 3 Items
Associated Press

SALT LAKE CITY — Tyler Endsley managed a laugh as he talked about wretched conditions aboard Carnival's stranded cruise ship Triumph.
Endsley and his wife were able to connect a call home to Utah on Thursday as the powerless craft limped "back to the USA," he said.
The Eagle Mountain couple were among those trapped on the ship when it lost power Sunday, their cabin smoke damaged and flooded because of its proximity to the engine room that caught fire and knocked out power.
"People have got to go," Endsley said, almost apologetically. "We started out with red bags, where we would have to do No. 2 in a red bag and give it to our steward."
Passengers quickly lost patience with the bag system, he said, turning instead to the ship's soon overflowing toilets. 
"It's pretty nasty," Endsley said. "There are floors that are completely wet from sewage."
Nevertheless, he said his group, which includes his wife's family, decided to keep their spirits up throughout the ordeal.
"We've had no cellphone communication and no Internet, so it's just been hanging around and talking about stories," Endsley said. "The conditions have been pretty bad, but all you can do is control your attitude and your emotions, and it's been OK."
The Endsleys said they were told they will receive a refund for the cruise, were offered a second trip and will receive $500 compensation.
Logan resident Toni Woods boarded the Triumph with her husband, hoping for a relaxing vacation. She didn't get one. Instead, Woods described soggy floors, onion sandwiches and pleas for extra insulin needles and diapers as people ran out.
Because the Woods have a room with a balcony, they tied the doors to their cabin open to let air down the passageway and into other suites.
"We've been really lucky, with our balcony room," she said. "For the people across the hall from us, it was just stifling."
Wood said she longs to hug her children, but knows they are being cared for. And if she goes on another cruise, she will come better prepared.
As the sun set on the Triumph's crawl toward shore, passengers' only source of light was a cellphone.  
The cruise ship pulled into the port at Mobile, Ala., late Thursday night, but passengers still had hours to wait before they could walk on solid ground.
The Triumph was pulling into port at about 9:15 p.m. Central time Thursday after taking about six grueling hours to be towed from the mouth of Mobile Bay some 30 miles to the port.
Anxious passengers lined the decks waving, cheering loudly and whistling to those on shore.
Carnival says the 3,000 or so passengers had the option of a seven-hour bus ride to the Texas cities of Galveston or Houston or a two-hour trip to New Orleans. Buses were standing by to take them to their next stop.
Officials said it would take passengers — carrying their own luggage, with only one functioning elevator on the ship — up to five hours to disembark.
Earlier Thursday — four days after the 893-foot ship was crippled by an engine-room fire in the middle of the Gulf of Mexico — the more than 4,200 passengers and crew members suffered another setback with towline issues that brought the vessel to a dead stop for about an hour just when it was getting close to port.
Frustrations with the cruise line simmered on and off the ship, as passengers and their relatives questioned why it had taken so long to get back to dry land. The ship left Galveston a week ago.
Disgusted by the foul air and heat on the lower decks, many passengers hauled mattresses and bed sheets onto the top deck and slept there, even staying put in a soaking rain. As the ship approached the coast, a slew of Carnival workers removed the bedding and took it downstairs.
The company disputed the accounts of passengers who described the ship as filthy, saying employees were doing everything to ensure people were comfortable. Carnival didn't immediately respond to questions the illnesses reported by some passengers.
Terry Thornton, senior vice president for Carnival Cruise Lines, said the ship received an extra generator that allowed hot food to be served.
"This is going to be a long day," Thornton said Thursday. "There is no way we can speed up the process."
Carnival spokesman Vance Gulliksen said the company tried to keep families updated and established a toll-free number for friends and relatives. Gulliksen said about 200 Carnival employees were in Mobile waiting to assist passengers upon their arrival.
The ship was about 150 miles off Mexico's Yucatan Peninsula when an engine room fire knocked out its primary power source Sunday, crippling its water and plumbing systems and leaving it adrift on only backup power.
No one was injured in the fire, but a passenger with a pre-existing medical condition was taken off the ship as a precaution. In addition, the Coast Guard said in a statement Thursday that it evacuated a passenger who reportedly suffered a stroke.
Carnival said the original plan was to tow the ship to Progreso, Mexico, because it was the closest port, but by the time tugboats arrived, the ship had drifted about 90 miles north due to strong currents, putting it nearly equidistant to Mobile. It was also logistically easier for the company, which said costs were not a factor.
Carnival Cruise Lines has canceled a dozen more planned voyages aboard the Triumph and acknowledged the crippled ship had been plagued by other mechanical problems in the weeks before the engine-room blaze. The National Transportation Safety Board has opened an investigation.
Contributing: Associated Press, Devon Dolan, Jed Boal
E-mail: [email protected]
Twitter: McKenzieRomero