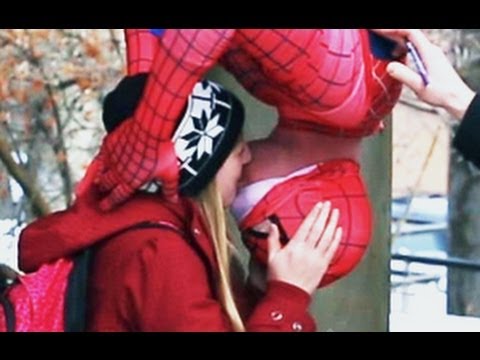 View 2 Items

It's hard to forget the upside-down kissing scene in the 2002 movie "Spider-Man" between Tobey Maguire and Kristen Dunst, a kiss that won an award in 2003.
Utah Valley University student Stuart Edgington, famous for his mistletoe prank video and bad breath video at Brigham Young University, decided to make some Utah State University girls' dreams come true by recreating the romantic Hollywood moment.
Using an approach similar to the one in his mistletoe prank, Edgington asked several girls if they'd take a quick survey. He began the survey by asking the girls if they liked Spider-Man and then followed with the question, "If you had the opportunity to kiss Spiderman upside down, would you do it?"
Soon after the girls answered the question (most of them answering, "Yes"), a man dressed in a Spider-Man costume appeared in the scene, upside-down.
"Ever since the mistletoe video, I'm always thinking of new ideas," Edgington said. "I don't know how I thought of it, I just remember telling someone one day I was going to do a Spiderman kiss prank."
The video was filmed on Utah State University's campus after Edgington got permission from public relations, the police department and the people in charge of the building where they conducted the survey.
As Edgington was performing the survey, crowds gathered to see the girls' reactions. Edgington thought it would blow their cover, but surprisingly, the girls being surveyed didn't notice.
"Utah State isn't really a hot spot for making YouTube videos, so people didn't really expect it as much as they do at BYU," Edgington said. "At BYU, people are always on their toes thinking stuff like this is for YouTube."
Although a few people felt awkward, Edgington said most girls were more than willing to kiss Spider-Man. Several girls came up and asked if they could take the survey.
"There were even some guys who didn't know what was going on that would come up and ask if they could help us out," Edgington said. "We'd just tell them no, but one time we asked a guy for fun just to see what he'd say."
Edgington may seem like the prank master, but he'd rather be behind the camera.
During the production of the mistletoe video, he decided he'd try to talk to one of the students and persuade her to kiss him. Right as he was about to talk to someone, he lost his nerve and walked away.
Edgington is also hesitant about whether he'd participate in the survey if he were on the other side of things.
"It depends on how cute the girl was that I was kissing," Edgington said.
Megan Marsden is an intern with the Deseret News, writing for the Faith & Family section. She is currently a junior at BYU-Idaho studying communication.