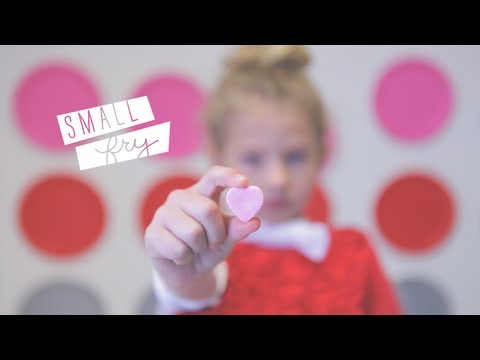 View 2 Items

Many adults see love as complicated, especially on Valentine's Day. Husbands stew over the perfect present to get their wives, 16-year-old girls spend hours making heart-shaped cookies, and the greeting card companies strive every year to think of original ideas to say "I love you" in hundreds of different ways.
Children, however, seem to have a simplistic and positive outlook on love and Valentine's Day. A recent video produced by Small Fry (a children's lifestyle blog) and filmed by Jenner Brown was released on YouTube, depicting 25 children's views about Valentine's Day. In the video, the children described love as "warm and fuzzy" and feeling really "sparkly."
"At Small Fry we are constantly laughing at the sweet innocent things children say," said Nicole Christensen, contributor at Small Fry. "We find their minds so magical, so we thought we'd document it in this video."
Whether it's their own children or the children they work with at Small Fry, the creators of the video are constantly surrounded by children, so they are able to learn a lot about how each child shows affection.
"After hours of interviewing children ages 2-7, it seemed the universal conclusion on how they show/receive love was the same: hugs," Christensen said.
The video isn't all about what love is. The children are asked a variety of questions like "Where do your parents go on a date?" "What does a heart look like?" "Do you have a Valentine?" and more.
"We went out on a limb with this video, as it was nothing like we had done before, but the reaction has been even better than we planned," Christensen said. "We are looking forward to doing another video along these same lines in the future."
Megan Marsden is an intern for DeseretNews.com, writing for the Faith and Family sections. She is a junior at BYU-Idaho studying communication.